Box provides current Cornell faculty, staff, students, and affiliates with a simple way to share critical research, collaborate on group assignments, and manage team files, delivering a consistent user experience across campus.
Using Box, You Can
Manage and preview files in many formats.
Access content through all major browsers, and through mobile devices running iOS, Android, and Blackberry.
Share files and folders while controlling access with a range of permissions from preview-only to full editing and collaboration rights.
Comment on files.
Create simple workflows.
Take advantage of related applications and file synchronization tools.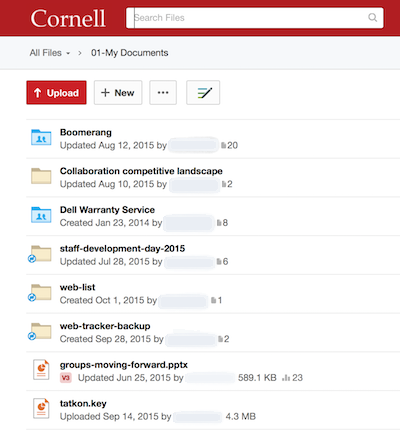 Before using Box to store, share, or collaborate with institutional information,
review the Regulated Data Chart
(Box is listed in the
Collaboration Services
section).
Graduating, resigning, retiring, or otherwise leaving Cornell? Find out what changes to expect for your Cornell Box account.
---
Service Details
Share your files with free cloud storage, thanks to a campus-wide license.
Best for:
Storing and sharing large numbers of documents.
provides tools to easily edit common files in Office on the desktop or in Office Online.
Can share files with anyone with an email address / collaborate with other institutions.
Excellent security for your data with encryption of your data both in transmission and while stored in the cloud, detailed auditing of who has acted on and viewed your files, watermarking of files, and view-only files that you can prevent others from downloading.
Audience(s):
Compare to:
Best for:
University (mission data) that needs to be stored in a secure, central location. 
Files you want to share within your department or with other departments at the University.
---
Best for:
Servers that you don't want to manage yourself and do want to maintain on campus. 
Also used for:
Disaster recovery
Backups
Virtual or physical servers