Box Problem: When You Can't Accept an Invitation to Collaborate
What to do when you receive a Box file invitation you can't accept
This article applies to: Box
---
The Situation
When you receive an email invitation from Box, like the following, it will not let you log in and accept the invitation.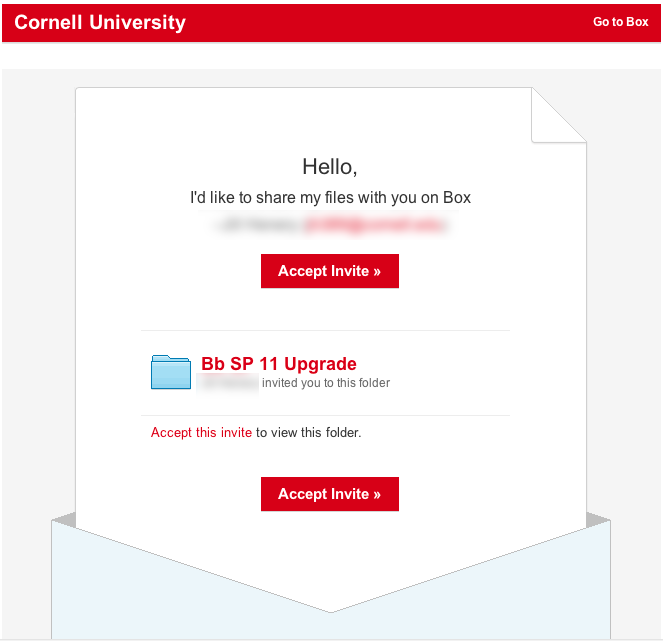 Accepting the invitation takes you to the Sign Up page.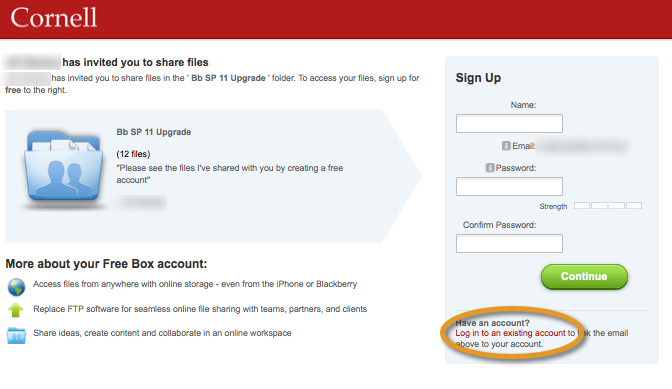 If you click Log in to an existing account, the page changes to a Log in to link emails view.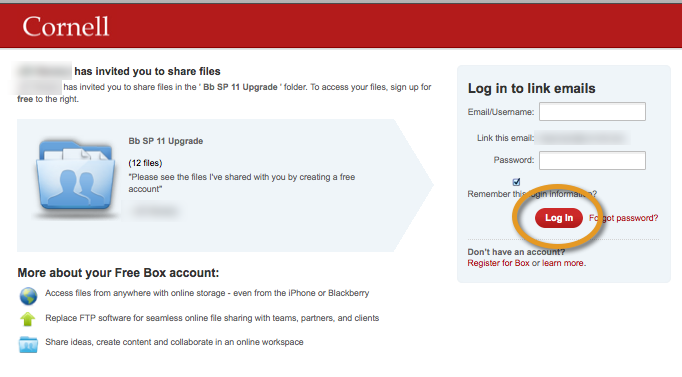 If you click Log In (without putting your NetID password in - because this isn't the CUWebLogin page), then you are redirected to the Cornell Box Log in page
If you click Continue, it will log you in, but the file/folder you are trying to access isn't there.
How to Solve this Problem
The reason you're having trouble and seeing those screens is because rather than inviting netid@cornell.edu as a collaborator, someone has invited your email alias (yourname@cornell.edu).

The easiest way to fix this problem is to add your alias as an alternate Cornell Box.com email address.
Completely exit out of any browser which was used to access Box.com.
In a fresh browser session, go to cornell.box.com.
Click Continue to log in, and sign in to CUWebLogin.
In Box, click on the settings cog, then click Account Settings.

In the

Account

tab, under

Login and Email Addresses

, click Add more emails.


 
Enter your email alias (yourname@cornell.edu).
Click save. You will get an email confirmation that you must accept. Check your Junk mail if the email doesn't appear in your Inbox.
After you confirm the change, you should be able to accept the invitation and view the file/folders shared in your Cornell Box account.