EZ-Backup Fees and Billing Overview
---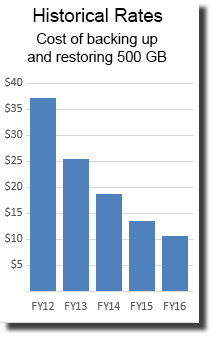 EZ-Backup is a cost-recovered service offering of CIT. All users of the service share the costs of providing this service. The EZ-Backup business plan is reviewed yearly, to ensure that it complies with guidelines in Cornell policy which require that rates be based on costs and that surpluses must be used to lower rates. The current rates are in effect as of July 1, 2015. The rate structure for EZ-Backup is described below. Historical changes in rates are shown in the graph at right. (See Summary of Rate Changes for FY16.)
There is a monthly fee of $5.50 per workstation, which provides for up to 35 GB of compressed data storage. If you store more than 35 GB of data on the EZ-Backup server, you will be charged $0.03 per GB up to 15 GB of additional storage. Additional storage (beyond the base 35 GB and the first 15 GB of extra storage) is charged at a lower rate. Refer to the Rate Schedule below and to the articles describing available discounts.
Rate Schedule

The EZ-Backup program first compresses data before transmitting it to the EZ-Backup server.
It is possible to exclude files (or groups of files) from being backed up by the EZ-Backup software.
For >100 GB Static Data Discount, the machine's data must qualify.
See also our Discount Overview article and our Billing Examples article.
Billing
EZ-Backup subscriptions are billed on the 15th of each month. At this time, we are only set up to charge against University KFS account strings. We hope to have additional billing options available in the future.