Log In Using Two-Step Login
How to use Duo Push, a phone call, or a USB security key with Two-Step Login, plus "Remember me for 24 hours."
---
To improve data security, Cornell will be disabling Duo Mobile Passcodes as an authentication method for employees (including faculty) on Tuesday, December 6, 2022, and for students on Tuesday, January 3, 2023. Plan to use one of the remaining authentication methods going forward.
There are several authentication options, depending on the device you enrolled. You will usually log in through the web and select your login method using Two-Step Login's Duo authentication prompt.
You can choose to authenticate using a mobile device app, a call to your phone, or by pressing the button on a USB security key or hardware token. (For some campus IT services that don't support a web interface, you may have to log in using append mode authentication, or using a second password field.) If you check the Remember me for 24 hours box, Duo will remember your login on the current device and browser session for up to 24 hours.
The Duo prompt may automatically trigger the last method. To use a different method, click Cancel at the bottom of the Duo prompt, then choose a different method by clicking its green button. If you have set up multiple devices with Two-Step Login, you can choose a method that uses a different device by selecting the device from the Device dropdown list.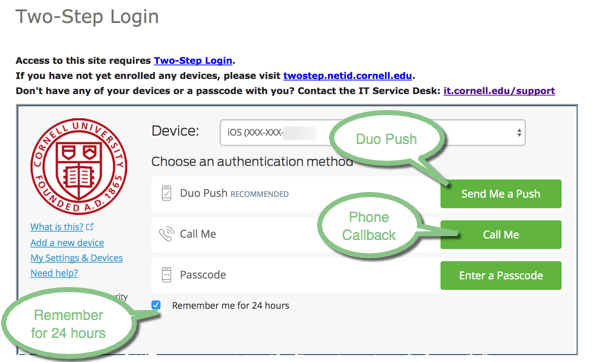 Preferred authentication methods include:
Additionally, the following passcode alternatives will continue to be available: