Change Password Unix or Windows
---
Change Linux Password
Linux servers are part of the Server Farm Account Management (SFAM) system. Your password will be the same on all of the Linux servers.
Note: Your Linux password should be different than your NetID password.
Go to the Server Farm Password Change page.


 
Enter the following:

Username

: Your user name.

Password

: Your current password.

New Password

: Your new password. The criteria for a strong password are listed below the Password Change box.

Confirm

: Your new password again.

Click Submit Update.
Note: If you've forgotten your SFAM username and password, you can change your password using your NetID and password. Click the Unix Configuration Site link at the top of the page.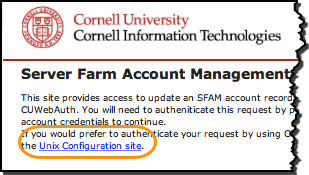 Change Windows Password
Your Windows password is the same as your NetID password.
For more information about changing your NetID password, see the Manage Your NetID page.