Get Started with Two-Step Login: Quick Guide
Streamlined guide on how to set up Two-Step Login for the first time
In This Article
First Time Setup for Two-Step Login
If you need information about the many types of devices you can use with Two-Step Login, you can explore device options, then return here to enroll your chosen device(s).
If you have already selected your authentication device(s), continue with these instructions.
Create your account by signing in at Manage Your Two-Step Login. 

Log in with your NetID and Password.

Select Start Enrolling Devices Now. If you would like to enroll a hardware token, click the Enroll a Hardware Token tab and follow the instructions on that screen instead of continuing here. For more information about hardware tokens, visit Hardware Tokens for Two-Step Login.

At the Duo welcome screen, click Next. ("Duo" is the name of the IT security service supporting the Two-Step Login service.)


Duo will provide additional information about online security on the next couple of screens. Read this important information and click Next to advance at each screen.

 
When you reach the

Select an option

screen, select the authentication method you would like to enroll first.  (The Touch ID option will only be available for users on a macOS device which supports it.)

 
 

For the method and device you select, Duo will guide you through the setup process.

 

Begin by setting up the device you plan to use most often with Two-Step Login to authenticate Cornell logins.

The device can be a 

smartphone, cell phone, tablet, USB Security key, or landline phone

.

For each device you set up, you will be asked to choose the type of device you are enrolling and, when applicable, the associated phone number.

If you are enrolling a smartphone or tablet, you will be prompted to install and activate the Duo Mobile app on that device.

For a USB security key, insert the key into a USB port on your computer. When prompted, touch the flashing key icon on the security key.

For Touch ID, use a fingerprint reader with macOS and Chrome. This method is not available for other types of devices or browsers. Learn more from Duo about 

Using Apple Touch ID with Duo

.

 

After you have set up your first verification method and device, it is strongly recommended to add another way to log in.

Adding a second device is strongly recommended 

in case the device you usually use is unavailable, lost, or stolen.

Enroll your office phone and, if you have one, your home landline phone. These are good backup options.

You can also return later to 

Manage Your Two-Step Login

 to 

enroll more devices

.
Select Continue when you finish enrolling your first device, then use the Add another way to log in? screen to enroll at least one more device.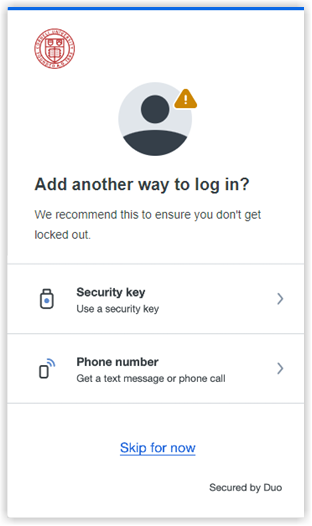 Full details on the process can be found in Duo's enrollment documentation and in the Two-Step Login Setup Guide.
Continue Using Two-Step Login
Support Contact:
Cornell IT Service Desk
Normal Business Hours: Monday-Friday, 8am-6pm (Eastern Time)
Emergency Service Disruptions: After Hours Support