Using CUWebLogin
How to Log In to CUWebLogin using a NetID, GuestID, or WCMC CWID.
---
Log in with a NetID
When you open a web page protected by CUWebLogin, the CUWebLogin dialog will appear. Fill in your NetID (just the letters and numbers, without "@cornell.edu") and password, then click the Login button or press the Enter key.
As soon as you are logged in, the web page you requested will appear in place of the CUWebLogin page.
Later in your web browser session, if you go to a different site that is also protected by CUWebLogin, it will know you are already logged in, and most sites will not ask you to log in again. (For extra security, some sites do ask you to repeat your login information.)
Log in with a GuestID or WCMC CWID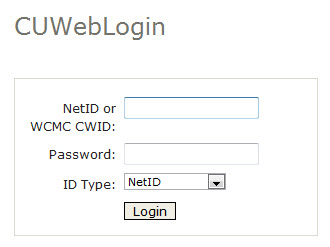 Some services at the Ithaca campus will accept logins using other ID types. These include: 
GuestID
WCMC CWID, the ID used at Cornell Weill Medical Center
If this is the case, the login prompt will look slightly different (see examples at right,) but will function essentially the same as logging in with a NetID.
Log out of CUWebLogin
The only way to log out of CUWebLogin is to close down your browser completely - close all browser windows on Windows, or use the Quit command on a  Macintosh. Always be sure to log out, especially if you are using a lab computer or are leaving your desktop unattended.
Learn how to recognize when you are connecting CUWebLogin and how to close your browser properly.