Share CUView Content with Other Departments
How to share your content using the Appspace Common Library or the univerity Digital Well website.
---
CUView content providers have several options for sharing content with other units on campus. They can:
upload their content to the Appspace Common Library, from which they and any other CUView user can add the content to their sign,
upload their content to the university Digital Well website, or
attach content to an email to the CUVIEW-DISCUSS-L e-list.
Appspace Common Library
The Common Library is a resource available to all Appspace users at Cornell. This shared folder is ideal for uploading content you would like other departments on campus to display on their signs. 
You can access the Common Library much as you would the folders of your own Appspace account's library. You'll find it located below your own department account's folders.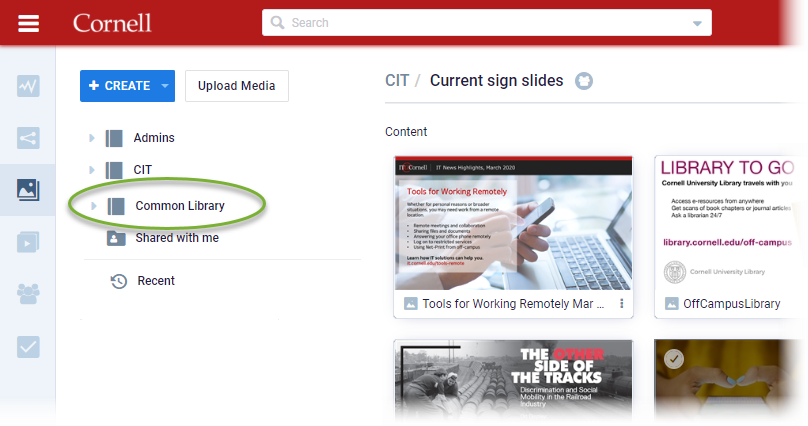 A good place to share your content is in the Campus Content subfolder. Upload your content there much as you would to your own Appspace library folders.
Appspace recently made improvements to the look and feel of its content libraries, including the Add Content process for uploading images and other media. You can learn more about these changes at 
Browse and Navigate Library in Appspace 8.0
.
When you create the content in the Common Library, follow these conventions to make it clear who is providing the content, what sign format you're using, and giving a brief description to help others know whether it's appropriate for their sign. Use the Settings and Article panels to set up the item's:
Name
The name of the content item will be the image file name by default, but you can rename it to something more descriptive. Ideally include the image dimensions in the file name as well. For example, "CIT - Fall event - 1920 x 1080".
Tags
Consider using the content item settings to add tags such as "16:9", "4:3", "landscape", "portrait", and your unit's name to help others search or filter for them.
Caption
Consider also using the Article panel to provide a description of the purpose of the slide in the

Caption

field. 
Auto Delete Content from Library
If your content promotes an event, consider creating an expiration date for the shared item so it will be removed from others' playlists after the event has taken place.

Be sure to Save your changes after you have made them using the blue button at the top right.
 
Digital Well 
CUView members are automatically subscribed to Cornell's Digital Well, a tool that allows departments to store and share CUView content.
See All Shared Content in the Digital Well
To view all content stored at the Digital Well, which is available for display on any CUView sign:
Log in to the Digital Well (digitalwell.univcomm.cornell.edu).
In the Digital Well

Search

box, type

CUView

.
Click
. A list of CUView content displays.
Scroll to the bottom of the list and click
to see additional content.
Download Content from the Digital Well
To download Digital Well content, created by other departments, which you'd like to display on your digital sign:
Click the Collapse/Expand Tools button for the item of your choice.
Click the Download button.
Save the file to your computer and upload it to your Appspace library for use in a channel.
Upload Content to the Digital Well
If you are not a member of CUView and would like your content shared, please send an email to
CUView-Service@cornell.edu
for assistance.
To share your content with other CUView members for display on signs throughout campus:
Create and save the slide(s) you'd like to share.
Log in to the Digital well (digitalwell.univcomm.cornell.edu).
Click
.
Browse for the file you want to share, add a title, tags (include CUView), and description. Then click
Once your file is uploaded, people can search for it at the Digital Well by searching for CUView.
.
Send an email to CUView-discuss-l@cornell.edu to let CUView members know the new content is available for downloading from the Digital Well. Include a link to your content.