Record from a Webcam
How to record video from a webcam using Video on Demand
---
In addition to uploading video files, you can also record videos directly to Video on Demand using your webcam.
Note: this feature requires Adobe Flash.
If necessary, log in to Video on Demand
Click

Record from Webcam

page will open. If you are prompted to allow kaltura.com access to your camera and microphone, click . For questions about how to use your webcam, check the webcam's documentation or online help.
then . The

3. Click anywhere on the image from your webcam to start recording.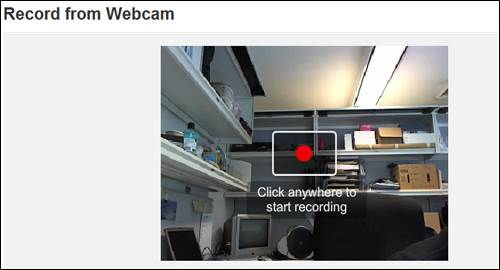 4. Click anywhere on the image to stop recording.
5. Click Save (on the image) to upload your recording
or
Click the red dot to discard your recording and start a new recording.
6. Enter information in the details form during or after recording. Only Name is required. The video details information can be changed or edited later from your My Media page.
7. Click Save (at the bottom of the form) to save the details.
 
To return to your My Media page, click Go To My Media near the Save button at the bottom of the window. Click Go To Media to open the recording you just made. If your media is still converting, you will see "Media is being processed" or "This media is still being converted." Once the media has finished transcoding, this message will no longer be displayed.