Cornell's IT Communication and Documentation team is responsible for the website and for maintaining the information and can be reached through the Comments? box at the bottom of most pages.
Services Defined
"Services" describe technologies that CIT offers to the Cornell community. A service listing may be specific (for example Zoom) or cover broad content (Software Licensing).
Quickly Log In to Services
You can find direct login links for Cornell mail, web conferencing, and collaboration services in the Quick Login menu.
Clicking More Login Links on this menu will give you fast access to even more services.
Search For Information
Click the magnifying glass in the upper right of every page to search the web site.
Ask Big Red Chatbot
Ask Big Red can help you find information on IT@Cornell, or connect you with a support staff member during normal business hours.
Browse Services
Clicking the Services A-Z menu option willl take you to a list of all IT@Cornell services.
You can either browse a list with all services in alphabetical order, or by the category the service is in. You can also limit the options with the Audience or Category filters.
Helpful Articles for a Service
Once you've made your way to a service site you will find additional help for the service in the sidebar. Every category displays only three articles, but there may be more information to browse. To see all of the articles available on a topic click All [service name] Articles at the end of the article list.
More Links, News, and Events
Scroll to the bottom of any page for quick access to IT information, including the latest IT News and upcoming events.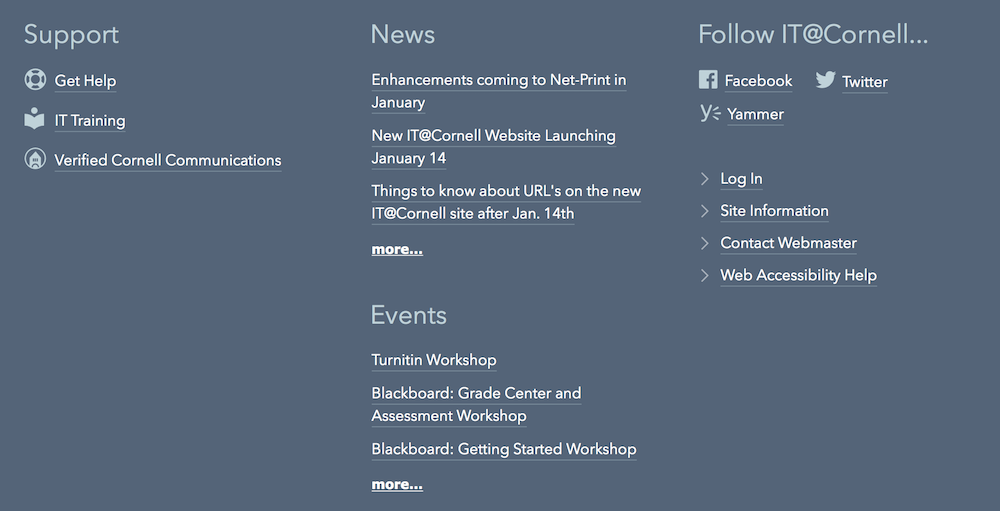 Technical Details