Experience Cornell
Experience.Cornell.edu is a student-facing website that aggregates information about Cornell opportunities into one space.
---
Scheduled launch: February 2018
What is the purpose of this new website?
Experience.cornell.edu is a student-facing website that aggregates information about Cornell opportunities into one space: research, study abroad, community engagement, off-campus learning, and more. It is the first project under the umbrella of the Cornell Student Experience Initiative.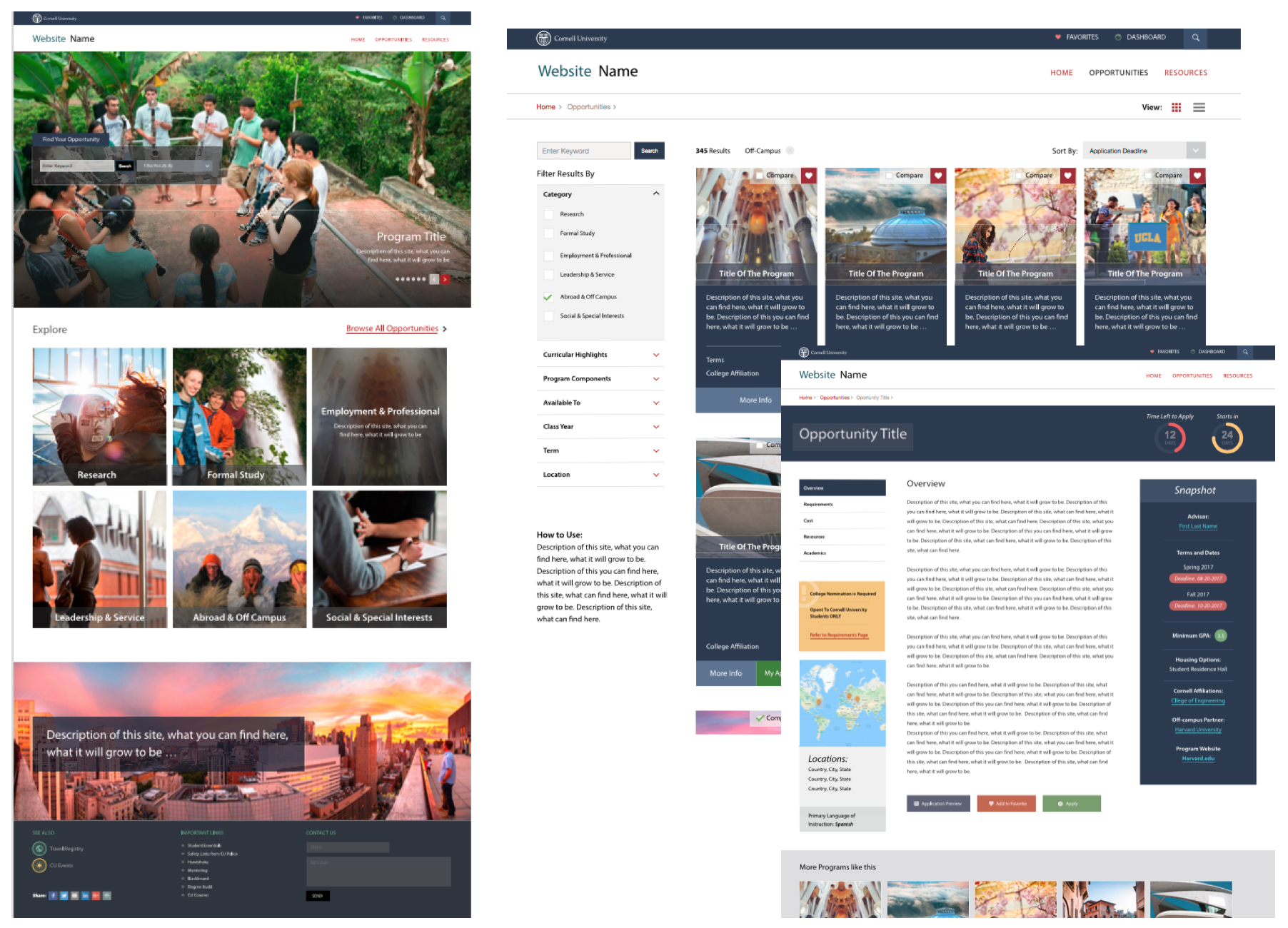 The site is live and scheduled to be announced to students the week of February 12. We are working closely with the colleges and select program units including the Office of Engaged Initiatives and CU Abroad to make sure the site launches with strong representation across content categories.
What is the process for entering content?
As a content contributor, you will fill out a detailed webform with information about your program. Open training sessions (via CULearn) will be held throughout February and March. You must attend a training session before you will be able to access the site. The training will include an overview of the project, and a demonstration of the site, filters and how to add content. We will also discuss tagging, web accessibility, and the annual process for renewing opportunities.
What is an "opportunity" and how do I know if my opportunity is appropriate for the marketplace?
Think of an opportunity as a specific learning experience. It is something you "go" on or take part in and it enhances your academic experience at Cornell. It can be on or off campus, one-time or recurring, course-related or non-course-related. Examples include: fellowships, for-credit internships, study abroad, community-engaged programs, research, training, and certain volunteer programs. An opportunity in this context is not a job listing, event, club, or center. It is also not a bundle of programs. It is a single opportunity that can be tagged and is discoverable by students through filters and search on the website.
What is the deadline for entering content?
You can enter content any time, including after the site goes live.
How will students apply to my opportunity?
If you have an application, you can include a link to it when you set up your program in the system.
What if I want to tag my program with a filter that is not included on the site?
There is a KEYWORD field that will allow you to assign your own custom tags. We will review the keywords annually to determine if any of them should become filters.
What if I have feedback about the site?
There will be links on the site for providing feedback to the web team. We expect the majority of feedback will relate to search filters and tags. We will revisit those over the summer. You can also reach out to Rebecca Joffrey (experience@cornell.edu) with questions.