Which E-lists Have I Joined? (Lyris)
---
To find out which CIT-hosted lists you have subscribed to, send an email message to
lyris@cornell.edu  
For the Subject of the message, type the single word
which
Leave the body of the message blank. Your message should look like this: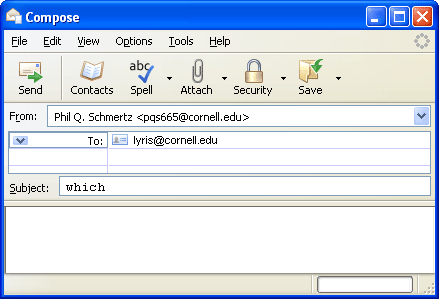 You must send this message from the email address where you receive e-list messages.
A short time after sending this message (usually seconds or a few minutes), you will receive a message like this one: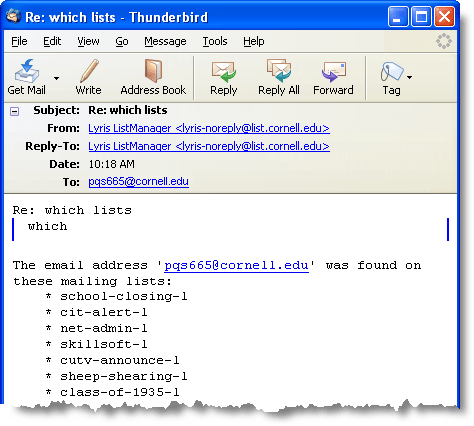 A couple of notes about the results:
Only e-lists hosted by CIT will appear in your results.
If you have an email alias (a name-based alternative to NetID-based addresses), you may have joined some lists from the alias address and others from your NetID address. The which command will only show you the lists joined from the address from which you sent the command.
You may see some entries you don't expect! Here are the two most likely kinds:
If the entry starts with the word "bulk", like
bulk-rt24055-sent_noted
don't worry. Some email messages sent to large groups (for example, to all students or all staff) use temporary lists.
If the list name ends with "-L" but you don't recognize it, you can contact the list owner. Just send an email message to
owner-listname@cornell.edu, where listname is the exact name as it appeared in your "which" results (including the hyphen and the letter "L" at the end of the name).
For example, owner-cu-volleyball-L@cornell.edu.