How to Use a Zoom Room
This article applies to: Zoom
---
Zoom Rooms provide an advanced set of online visual collaboration features, including two displays of your Zoom meeting:
It is important to note that the Zoom Room application runs on dedicated hardware, not your personal laptop. You will still need to use your laptop to start the Zoom meeting and to connect to the room's cameras, microphones, and projection.
Tutorial Video: "What Is a Zoom Room"
Watch this video What Is a Zoom Room on Cornell's Center for Teaching Innovation Zoom webpages.
Tutorial Video: "Starting a Zoom Room"
Watch this video Starting a Zoom Room on Cornell's Center for Teaching Innovation Zoom webpages.
Gallery View
In a Zoom Room, a 24" monitor has been set up to provide a dedicated view of the Zoom meeting's Gallery view. Like the gallery view in regular Zoom meetings, this view displays an array of small "thumbnail" videos of the meeting's participants, providing instructors with a constant visual sense of their on-line attendees.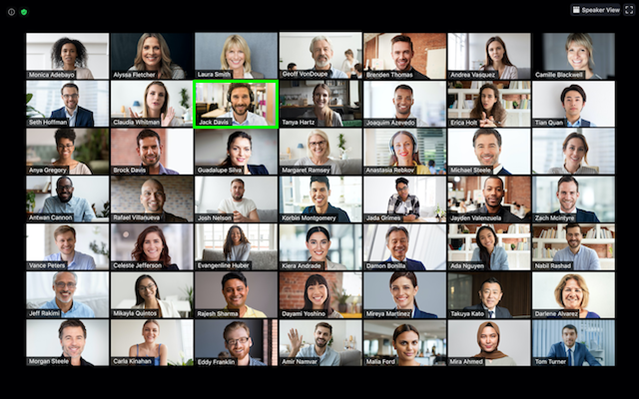 Up to 49 participants can be displayed on the gallery view monitor. When a participant is the active speaker, their thumbnail will be highlighted. If your course meeting has more than 49 participants, only the first 49 can be displayed in the gallery view.
If your class participants are not being displayed on your Gallery View monitor, make sure the Zoom Room has joined your class Zoom session. For details on how to do this, see Join a Zoom Meeting from a Zoom Room.
Zoom Room Touch Interface
The Zoom Room touch interface uses a Wacom One annotation tablet, which can show:
In addition, the Zoom Room has joined the meeting, the touch interface can show:
To tap in-meeting control icons, use the touch interface's proprietary stylus (other styli will not work with the touch interface).
A compatible stylus will be tethered to the room equipment. Faculty can be provisioned with a compatible stylus on request from the classroom support for the teaching space.
Zoom Room In-Meeting Controls
In-Meeting Control Bar
While the Zoom Room is connected to a meeting, basic controls can be found in the control bar across the bottom.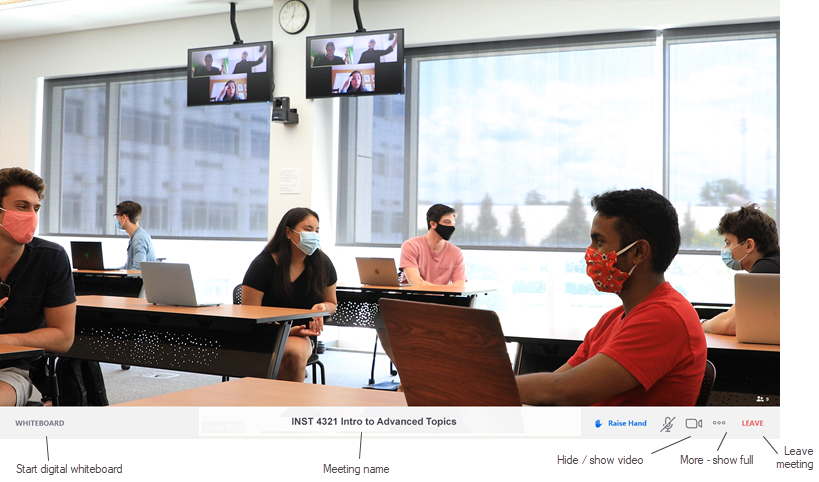 Full In-Meeting Controls
Tap the More icon (three dots) in the control bar on your Zoom Room controller to open the full in-meeting controls.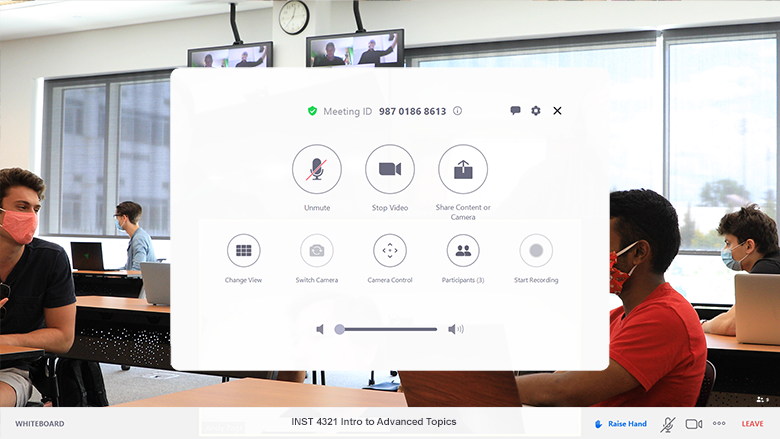 Tap the controls using the tablet's stylus to activate them.
Mute/Un-mute
[Not enabled for current Cornell installations. Instructors can mute their own video using the Zoom client in their own laptops.]
Stop/Start Video
Show or hide the current active view.
Share Content or Camera
Choose a camera in the Zoom Room to share with the meeting. For details on sharing content from the room's physical blackboard or whiteboard, see Zoom Rooms: Board Cam.
Change View
Switch the view shown in the room display.
Participants
Open a list of meeting participants. 
Volume
[Not used in the current setup.]