Send Messages to an E-list (Lyris)
Sending a message to the members of an e-list is almost exactly like sending any other email message.
Put the e-list address in the To field.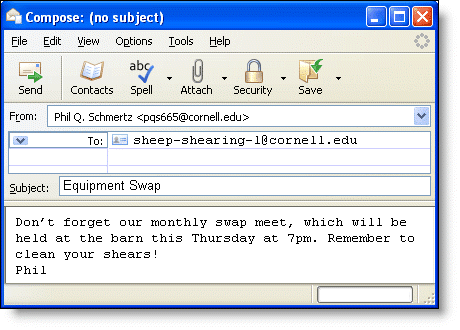 Be sure to include the hyphen and the letter L at the end of the list name. In this example, it's
sheep-shearing-L 
not
sheep-shearing 
What happens after you send your message depends on the way the list administrators have set up this e-list.
Unmoderated lists: messages are delivered to all list members exactly as submitted.
Moderated lists: each message is reviewed by a list administrator, who can reject messages if they are not appropriate for this list. The administrator may also edit your message before sending it on to the list.
Announcement lists: only administrators can post messages to these lists. If you try to post to an announcement list (and you don't have administrative privileges), you'll receive an error message.