Info for E-signature Admins
---
Each unit that wants to use the Electronic Signature service needs to designate an administrator (or admin) to assign licenses, maintain groups within their unit, and provide primary technical support for their unit. The unit admin's responsibilities include organizing users into groups, managing users, and guiding the unit on decisions about workflow and business continuity.
Groups
Adobe Sign organizes users into groups. A user must be in exactly one group.
Adobe Sign - Group Manager Training is now available.
Groups are used for the following functions:
Document templates can be created for a single user, for a group, or for the entire university. It is most appropriate to limit templates to your group unless your job is making university-wide forms and processes.
Workflows can be defined for a single user, for a group, or for the entire university. Again, the group is most appropriate level of sharing.
Admins can run reports for their groups to compile statistics for usage.
We recommend that units set up relatively few groups. The limitation of users being in a single group tends to make it impractical to divide users by function because of overlapping functions. For instance if you have a department that contains within it an accounting group, you might want to put your accounting group in one group in Adobe Sign, and everyone else in another group. But then if you wanted to make a workflow for your entire department to request reimbursements, you would have to duplicate that workflow for both groups.
Users can be moved between groups, so it is best to start with the smallest number of groups possible. If you find that you need more later, you can create a new group and move some users into it.
Managing Users
CIT has provided a small application for managing the licenses of users in your group. You may use this application to issue licenses for eligible users: active staff and faculty, including temporary and contract staff (students, retirees, and alumni are not eligible). If you are already a group admin, you can use the application at manage.esign.cornell.edu. Once signed in, the application will provide assistance in common tasks.
Individuals who will be signing high-value transactions in Adobe Sign must be provided with a Cornell enterprise account. High-value transactions are worth more than $25,000, or are agreements on behalf of the entire university, such as real estate agreements.
Departmental Users
If you would like your contracts to be sent from a departmental email address rather than a personal one, you may create an Adobe Sign account for an Exchange Group Account (EGA). This method is also useful because it allows several people to share the management duties of the collected contracts and stores the received documents under a non-personal account. To use this management method, you first need an EGA. If you don't already have a suitable EGA set up, see the Request an EGA article for details.
Notes:
The email address and display name you select should be one that will be recognizable by those you are contacting to obtain signatures.
Several emails will be sent by Adobe to this EGA for each agreement that you send out, so it should be an EGA where those emails are delivered to the appropriate people and don't interfere with other business processes using the same EGA.
Once you have an EGA, your group admin can enroll the EGA for a license using the management tool. After that, the group admin can submit a ticket through the IT Service Desk to share the EGA with the appropriate list of people.
Once the sharing is set up, individual users should continue to log in to Adobe Sign with their own NetID and password. Users will see a new button in the lower left corner of the Dashboard, Switch to shared account. Once switched to an account, all agreements will be send from and returned to that account. The History sub-tab of the Manage tab will show the actual actor who logged in to the account, so a proper audit trail is kept.
Don't use the EGA account to sign documents. If a signature from your office is needed on a document, route it to an individual during the signing process, so that the signature authority is clearer.
Box Workflow
Adobe Sign has an integration with Box. The two products can be used together to address some of the shortcomings of Adobe's document storage. This can be combined with the use of a departmental folder in Box to greatly enhance the organization of the documents and the availability to everyone who needs them.
Step 1: enable the Adobe Sign integration: While logged into your Box account, add Adobe Sign to the account by searching for Adobe in your Applications list, then click Add to enable it for your account. Or see the Box help page on Adobe Sign integration.
Step 2: Set up folders in Box for storing your unfilled forms (templates) and your signed forms. In this example, we're going to create a folder named Adobe, with subfolders named Templates and Signed Forms. Create the folders before continuing, as you will not get the chance to create them during the following steps.
Step 3: Upload forms that you want to send to your Adobe/Templates folder. These must be in PDF format, so if you are starting with a form in Word or other format, use Adobe Acrobat DC Pro to convert the document to PDF and identify the form fields. Acrobat can access your Box folders directly if you add Box as a cloud storage location.
Step 4: Send a form for signature. In Box, click on the ellipsis (three dots) on the same line as the form in the Adobe/Templates folder that you want to send. Select Integrations, then Adobe Sign from the menu that appears.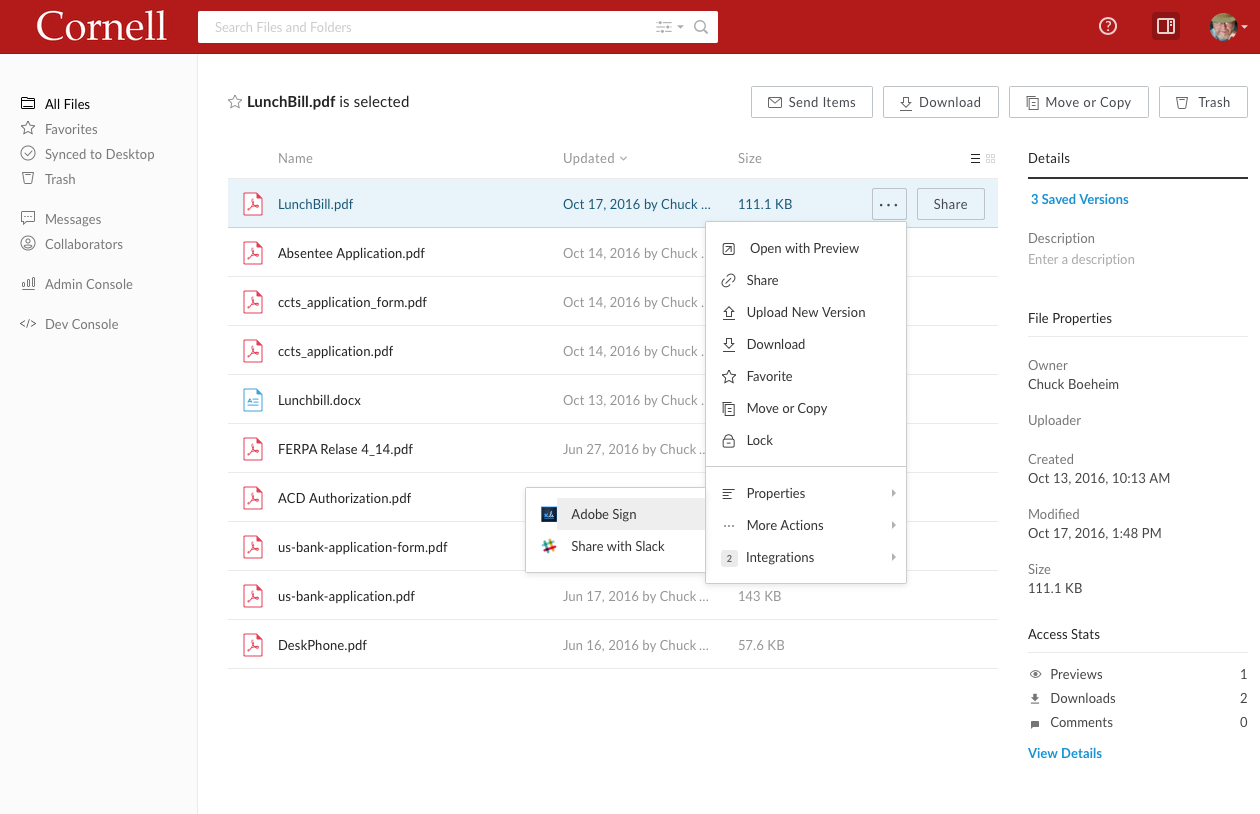 Step 5: The first time you use this integration, you will be asked to grant permission to access your Box account. Approve this request. Then you will see a popup window (if you don't, disable any popup blockers in your web browser), asking you to select a folder into which the signed document will be stored. Choose your Adobe/Signed Forms folder.
Step 6: You will get an Adobe Sign sending page. Enter the email address to send the document to, and the agreement name. The agreement name is VERY important, since that is how the returned form will be named when it is stored in your Box folder. If you don't give the form a name, the form will be returned with the same name as the template. If you do this multiple times, Adobe will add a number to the end of the form name so it doesn't overwrite the first one. Put a descriptive name on at this stage to avoid having to sort out a bunch of generic documents later.
Step 7: The normal Adobe Sign signature process is followed to completion. At the end, two files will be stored in your Adobe/Signed Forms folder: <agreement name>_signed.pdf and <agreement name>_audit.pdf. The first will have the filled out and signed document, and the second will have a complete audit trail of where the document was sent, and who signed it, with complete information about dates and times and the IP addresses of the devices on which it was accessed or signed.
To scale this process to an entire department, obtain a departmental Box account, and create your Adobe/Templates and Adobe/Signed Forms within that departmental folder. That way everyone in the department will be able to share the templates and view the signed agreements.
Business Continuity
It is important to devote some planning to business continuity for times that staff is on vacation or out sick, or times when there is staff turnover. Adobe Sign stores documents in the account of the user who initiates the workflow, and these documents CANNOT be moved to another user's account. They can, however, be made accessible by another user. This can lead to issues of business continuity when documents and workflows stored in the account are required for the university's business and the account owner is unavailable.
Most of the following measures are not needed if units and departments follow the best practices above of using Departmental Users or a Box Workflow. If neither of these are in use, the following methods are needed.
For coverage during a person's planned absence, Adobe's recommended method is to use account sharing, and is relatively easy to set up. To initiate account sharing, click  the Account tab in your Adobe Sign dashboard, then, on the left, click Sharing Status . Click the plus sign to share your account with someone else. You can keep this sharing arrangement permanently or you can set this up for only the periods where coverage is needed. Once set up, the person to whom you have granted access will see a new Switch to shared account button at the bottom right corner of their Adobe Sign dashboard. Clicking on an account name will allow that person to see your documents, both completed and in-progress, and if you have granted those permissions will also be able to send new agreements on your behalf.
If you have not planned in advance for a staff member's absence, you, as the Group administrator, can set up sharing between members of your group. (Please be sure to notify the users involved and to keep a record of your actions.)
If a staff member has left permanently, Adobe recommends sharing the departed staff member's account with the next occupant of the position, so that historical documents are accessible. While this will work on a small scale, over time this will yield an unmanageable tangle of sharing arrangements. For this reason, we recommend either the departmental account workflow or the Box workflow instead.