Confluence Glossary
Glossary of Terms for Cornell's Confluence Wiki.
---
Child: A child page is one that has a parent. A child page may also have children pages.
Dashboard:  The default homepage for Confluence.
Group: A group is a group of Confluence users, used when setting permissions for a space. When a Confluence space is created, two groups are also added by default: confluence-spacekey-admins and confluence-spacekey-users. If you need to have additional groups set up for your space, use the Confluence Support Request Form. 
Key or Space Key: A key is a short (around 6-8 character) name for a space that is used in the URL for the space and in macros that refer to the space.
Info: Information about a page is stored on the Info Page.  The Info page is split into several sections.  The first section contains a "Tiny Link" to the page, links for exporting the page in PDF and/or Word.
Labels: Attaching labels to a page makes it possible for you to categorize your pages by that tag. 
Macros: Macros are pieces of code that perform functions within a page and allow you to add extra functionality. For more information, see Working with Macros.
Page: A page is one page of content that resides with other pages within a space. Pages are organized in a tree structure. The pages for a space are listed in Browse Space > Pages; selecting Tree View will display the organization of the pages in a space.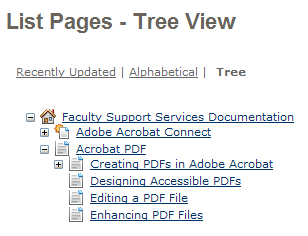 Parent: A parent page is one that has sub-pages, or children.
Permissions: A space administrator may choose to allow or not allow users to view, update, and/or delete all pages in the space. These permissions may be overridden for specific pages or parent-child sets of pages by setting page restrictions.
Restrictions: Restrictions on a page may be used to allow only specific users to view or edit that page and its sub-pages.
Space: A space is a collection of wiki pages that are related to each other, for example a project space or a team space.