Manage Blog Comments
This article applies to: Blogs
---
Default Comment Settings
Notify the administrator via email when new comments are added.
Notify the administrator when comments are held for moderation.
Commenters must include Name and Email. 
First comment from a commenter is moderated (held for approval). After first comment is approved, comments from that person are posted immediately.
Moderated Comments? Moderated comments do not automatically appear on the blog; an administrator must approve them before they are published. You can choose how much moderation you want.
Change Comment Settings
Click
Some useful options are outlined in the table below. Make your choices, and then click . (Scroll to the bottom of the page.)


and then click .
Setting
Instructions
Turn off all comments
In

Allow people to post comments on the article

.
Allow anonymous commenting
Note: May increase spam.
In Other Comment Settings, remove the check from Comment author must fill out name and e-mail.
Allow discussion with a wider community
In Other Comment Settings, remove the check from Users must be registered and logged in to comment.
Notified by email when a comment is posted, or is in need of approval
In E-mail me whenever, select Anyone posts a comment and/or A comment is held for moderation.
Administrator's approval required for all comments
Note: May create a lot of work for the administrator, depending on comments frequency. Also slows the speed of and may discourage conversation.
In Before a comment appears, select An administrator must always approve the comment and click Update Options.
First comments allowed without administrator approval
In Before a comment appears, remove the check from Comment author must have a previously approved comment.
Comments moderated based on the content of the comment (links or certain words)
In Comment Moderation, change the number in the Hold a comment in the queue if it contains # or more links and/or enter any names, URLs, e-mail addresses, words or IP addresses into the When a comment contains any of these words in its content … area.
Manage Comments
Click
You'll see a list of all published comments.
.
To see moderated comments waiting for your approval, click
.
Hover your mouse over a comment to see options to delete or approve or mark as spam. (Marking spam helps the spam protection plug-in recognize spam and improves accuracy).


Note: To manage groups of comments, select the box next to the comments, select an action from the Bulk Actions list, and then click Apply.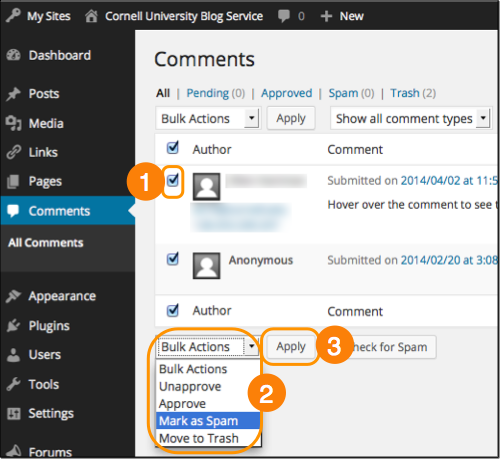 Prevent spam in the Comments
CU Blogs has an excellent spam filter built-in.
On the Settings > Discussion page, WordPress gives you several more tools to combat spam.
Automatic moderation of any comment with more than 2 links. (Lots of links in a comment are often a sign of spam.) You can adjust the number of links if it's moderating more legitimate comments.
Automatic moderation of any comment if certain words appear.
Automatic blacklist (complete rejection without notification to or moderation by administrator) if certain words appear. Note: Use this very cautiously as it will reject any comment that contains part or all of these words without notification.
Automatically close comments on articles older than "X number" days.  We recommend setting the days to 120 in order to prevent spam posting on old posts.