Book Club
---

Join our quarterly book group to explore leadership issues, styles, strategies, and tactics. 
To join the group: Discussions and logistics will be handled through the Cornell Yammer group ITReads. Anyone interested is encouraged to join and check out what's being read and said (for help with Yammer click here).
To facilitate receiving calendar invitations for in-person events, please also subscribe to the email list, itreads-l-request@cornell.edu. (For help subscribing click here.)
What we're reading
Fierce Conversations: Achieving Success at Work & in Life, One Conversation at a Time, by Susan Scott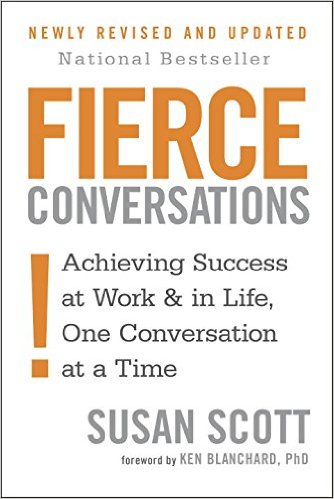 The master teacher of positive change through powerful communication, Susan Scott, wants her readers to succeed. To do that, she explains, one must transform everyday conversations employing effective ways to get the message across. In this guide, which includes exercises and tools to take you step by step through the Seven Principles of Fierce Conversations, Scott teaches readers how to:
Overcome barriers to meaningful communication
Expand and enrich conversations with colleagues, friends, and family
Increase clarity and improve understanding
Handle strong emotions-on both sides of the table
What we've read
Missed out on a reading? A running list will be available here.
The Speed of Trust: The One Thing That Changes Everything, by Stephen M.R. Covey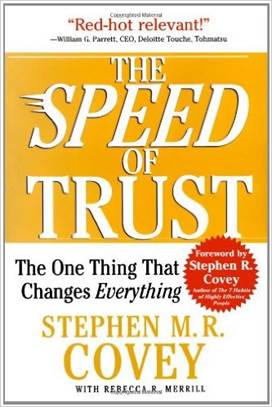 "Trust," says Stephen M.R. Covey, "is the very basis of the new global economy, and he shows how trust—and the speed at which it is established with clients, employees, and constituents—is the essential ingredient for any high–performance, successful organization."
For business leaders and public figures in any arena, The Speed of Trust offers an unprecedented and eminently practical look at exactly how trust functions in our every transaction and relationship—from the most personal to the broadest, most indirect interaction—and how to establish trust immediately so that you and your organization can forego the time–killing, bureaucratic check–and–balance processes so often deployed in lieu of actual trust.
Leaders Make the Future: Ten New Leadership Skills for an Uncertain World (Second Edition), by Bob Johansen
We live in a time of accelerating disruptive change. In a world characterized by volatility, uncertainty, complexity, and ambiguity—a VUCA world according to Bob Johansen— traditional leadership skills won't be enough. Drawing on the latest forecasts from the Institute for the Future—the first futures think tank to outlive its forecasts—this powerful book explores the external forces that are shaking the foundations of leadership and unveils ten critical new leadership skills.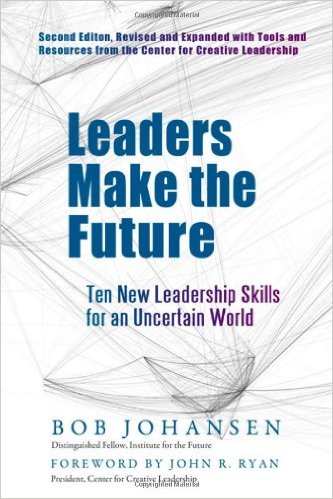 How adroit are you at dilemma flipping—turning problems that can't be solved into opportunities? Can you develop bio-empathy—the ability to learn from and apply the principles of nature in your leadership? Are you able to practice immersive learning—dive into very different-from-you physical and online worlds and learn from them? Johansen provides role models, tools, and advice to help you develop these and seven other future leadership skills.
In addition, Johansen deals with two new forces that are shaping the future. The first is the "digital natives"—people fifteen years and younger who have grown up in a digital world. The second is cloud-based supercomputing, which will enable extraordinarily rich new forms of connection, collaboration, and commerce.
In this thoroughly updated and expanded second edition, Johansen is joined by the prestigious Center for Creative Leadership. CCL's contributions help readers understand the new leadership skills by linking them to existing skills, and they provide analytics and exercises so readers can more fully develop these new skills.
About the Author:
Bob Johansen consults with senior executives—CEOs, presidents, directors on innovation, and others across a wide range of industries. He was president and CEO of the Institute for the Future from 1996 to 2004 and remains on its board and leadership team. The Institute for the Future (IFTF), spun off from the Rand Corporation in 1968, is an independent nonprofit think tank in Silicon Valley that has been doing ten-year forecasting for more than thirty years.
The Center for Creative Leadership is a top-ranked, global provider of executive education. Founded in 1970, it serves more than 20,000 individuals and 2,000 organizations annually, including more than eighty of the Fortune 100 companies across the public, private, nonprofit and education sectors.               
Lead Like it Matters...Because it Does: Practical Leadership Tools to Inspire and Engage Your People and Create Great Results, by Roxi Bahar-Hewertson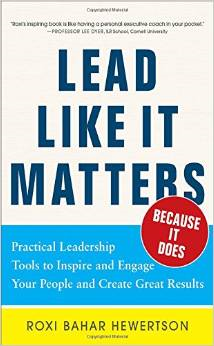 Master the 4 key tenets of leadership—and create a "ripple effect" of positive change.
A crash course in leadership that really makes a difference
Whether you're a manager, executive, or CEO, leadership matters. Whether you're running a large global firm or a small project team, it's the way you communicate and connect to other people that can make or break your success. The secret, according to Roxi Bahar Hewertson, is to make those connections count--to leverage your skills and play on your strengths--to lead like it matters…because it does.