Use an IPEVO Document Camera for Blackboard or Whiteboard Capture
In This Article
Follow these instructions to create a supplemental recording of blackboard or whiteboard notes using an IPEVO document camera.
Video recordings are used in conjunction with audio lecture recordings made with lapel microphone recorders (see Record and Share Audio Using the Tascam DR-10L Recorder).
Get Started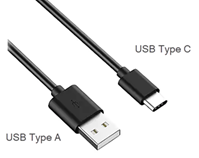 Connect the camera to your laptop or an in-room computer using the provided USB cable. Plug the narrow end of the USB type-C cable into the port labeled USB / Power on the back of the weighted stand and connect the wide end of the cable to your computer's USB (Type-A) port. 
Find the document camera's power switch 

 near the bottom of the front of the weighted stand. Slide the switch down. The LED indicator should glow green.
Make a Recording in Zoom and Share to Select Students
Start your Zoom meeting.
Set up an advanced share in Zoom to ensure the video is in high definition. Select Share Screen, then Advanced Options, then Content from Second Camera. If it doesn't automatically select the IPEVO VZ-R, you have the option to rotate though all detected devices using Switch Camera in the upper left.
Make sure the IPEVO VZ-R is selected as your microphone. Find the microphone icon (mute/unmute) in the lower left of your Zoom meeting window, then click the small up arrow to its right and under

Select a Microphone

, choose 

IPEVO

VZ-R if it is not already selected. 
Follow the instructions presented in the Center for Teaching Innovations' Recording a Zoom Meeting for Select Students.
If your board camera image is upside-down, press the Rotate button on the front of the camera stand.


If the camera image is out of focus, press the Focus / AF-Lock button on the front of the camera stand.


To share the recording, follow the instructions at the Center for Teaching Innovations' Making a Zoom Recording Sharable to Select Students.