Temporary Classroom Audio Systems
Description and basic use of temporary audio systems for teaching spaces
---
About
Temporary audio setups can provide a high quality "mixed mode" experience in spaces that otherwise do not have these capabilities.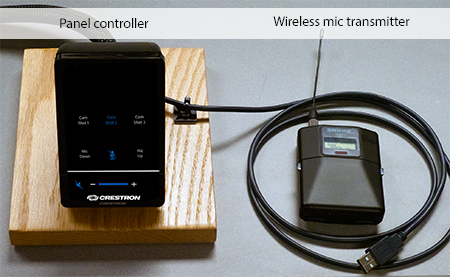 Audio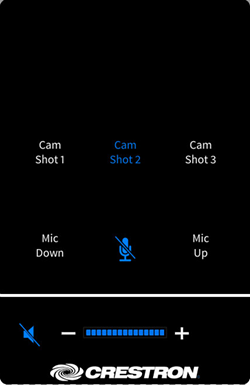 The equipment amplifies the instructor's voice to both in-room students through provided speakers and to those participating remotely via Zoom. It also allows remote students to ask questions and interact with faculty.
Video
The temporary system also allows you to recall three preset shots from a tripod-mounted, high-definition pan/tilt/zoom camera.
Typically, the temporary system itself will not allow instructors to display video content from a laptop or other device to the in-room class participants.
If there is a existing separate display in the room, contact local IT support staff for help using your laptop with it.
If there is not an existing display in the classroom, you can have in-room students join the course Zoom session and view your shared screen on their laptops.
Components
At the instructor's station, the temporary setup consists of:
A button panel controller

Wireless microphone transmitter
USB connection for laptop
Instructor connect their "bring your own device" (BYOD) laptop and personal university-provided lapel (lavalier) microphone.
System Operation
Using the panel, you can control:
Volume from your laptop through the speakers using the - and + and Mute (speaker icon) buttons at the bottom of the panel
Microphone audio level using the Mic Up, Mic Down, and Mute (microphone icon) buttons
Camera preset shots by pressing Cam Shot 1, Cam Shot 2, or Cam Shot 3 to select
Assistive Listening Capabilities
Receivers for an assistive listening system (ALS) are available by contacting IT / AV support for the classroom you are using. 
These receivers work with earbuds or a telecoil-equipped hearing aid. Participants using assistive listening will hear the same content as that played through the loudspeakers.