Report Outputs
---
Report outputs come from a number of sources.
No matter what source, all output can be found on the Outputs tab. All Reports can be viewed on the Outputs tab after they have been executed.
To narrow a search, you can sort by column headings or perform a search leading with "%" and a key word from the title. 
For example: "%Facility and" will show all your IT Facility and Staff Communications Charges for Month and Year.
What can you do with a PDF report output?
You can view it. Just click on the title of a report output, and the file will open.
You can print it. First you have to view it. Then print it the same way you'd print any PDF document.
You can download a copy to your own computer. First view the report (by clicking on the title of the report output), then use your PDF reader's save feature.
You can delete it. Click to put a checkmark in the box to the left of the report output title, then click Delete Checked. You'll notice that you cannot delete your own Faculty/Staff Communications Charges (also known as the CIT Services Report). These reports are generated automatically by the system, and will remain on your Outputs tab for 13 months.
What can you do with the Export format report?
This output is a little different. The Export Format: Subscriber/Service Summary & Totals Report is an Excel spreadsheet file, not a PDF. You will always want to download this file, so that you can use Excel or other software to access the data.
To download the report output, click on the report's title. What happens next depends on which browser you're using and how you have it configured.
You will probably see a dialog box like this: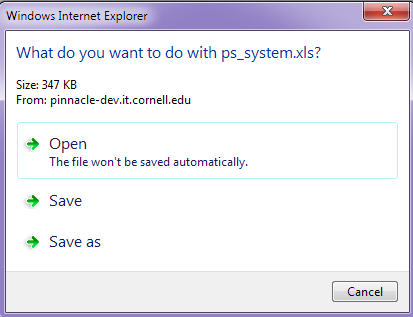 And at the bottom of the page:

Choose the Save option. Once the file has downloaded, you will need to change the end of the filename from xlt to xls
How do I make changes in the database?
If you find an error in the data on your reports—for example, the wrong account is being billed or you want to change the person associated with a particular phone number—please contact your unit's telecommunications coordinator. If you don't know who that is, contact your unit's finance or business office. They'll know. (And if you are your unit's telecommunications coordinator, never mind. You know what to do already.)