Mini Recording Studio and Specifications
---
Faculty and other instructors should
contact local IT support
for details about their mini recording studio locations, access options, and scheduling.
The mini recording studio provides a specially built location where faculty and other instructors can record course content while they are sitting or standing in front of a flat panel display.
For unit and departmental AV staff working to create all new audio-video installations, CIT's AV Installation service can consult to produce best results.
The mini studios currently allow instructors to record content using the built-in studio computer.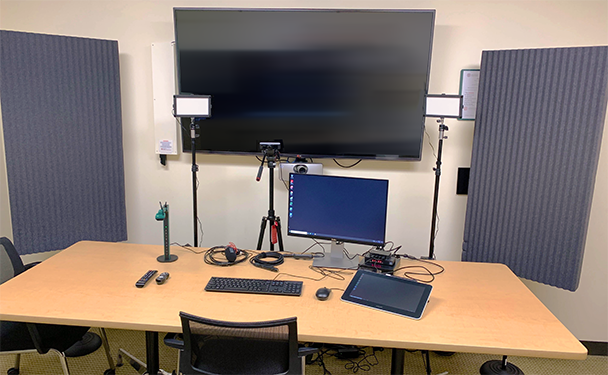 Description
Instructors have the option to bring their own lavalier (lapel) microphone or to use the studio's built-in microphone. The studio includes a web camera, a USB document camera, a Wacom annotation tablet, and a large-format (65" or bigger) monitor. Recording at a mini studio is done using either Panopto or Zoom.
Lighting and acoustical treatment would also be provided but produce best results when tailored to specific spaces. Other considerations include power, data network connections, ambient lighting, acoustics, room access/security, and furniture. 
For AV Staff: Technical Details (with typical ordering information)
Lighting 
Cameras 
Alternative option : Atlona AT-HDVS-CAM 
$713 
Pen Input Display 
USB Document Camera 
Microphones 
Microphone option #1 (BYOD Lavalier lapel, similar to Countryman B3, for more information see Lavalier Microphone) 
Senal XU-1648 XLR-to-USB Interface 
Pearstone PM Series XLR Male to XLR Female Professional Microphone Cable (15') 
Electro-Voice TXA - TA4-Male to XLR-Male Adapter 
$158 
Microphone option #2 (shotgun)
Rode VideoMic NTG Hybrid Analog/USB Camera-Mount Shotgun Microphone 
$186.75 
Spare Stylus 
Acoustic Treatment
Monitor recommendations
Monitor recommendations: as of Summer 2020, the Integrated Audio-Video team recommends using the Samsung QB65 line. Size of the monitor depends on available space.
It's also recommended to mount the panel on a moveable Chief cart, so that it can be used or moved out of the way as needed. 
65" RU8000  - $969 
AV switcher (USB, Video, Audio auto switching with power charging over USB-C 
Portable Cart 
Resident Computer  
Dell Desktop setup (in-room computer that will run Panopto, Zoom, and other required applications)  
Dell Optiplex 5070 - $800 
24" Dell Display U2415 - $204 
Logitech S120 speakers - $15 
Total - $1019