Junk Mail Filtering in Apple Mail
We recommend using the Outlook on the Web settings for filtering junk mail, as they are processed on Microsoft's servers. This means that so they will be consistently applied no matter what client or app you use to read your mail. Automatic filtering is on by default.
In addition, Mail can help you weed out the junk mail, but you're unlikely to see much difference if you have left junk mail filtering turned on in Outlook on the Web as we recommend. It's up to you to decide whether you want this feature turned on and, if so, how aggressively you want it to act.
As delivered, Mail will put what it considers obvious spam in the Junk E-mail folder. You can modify this behavior to suit your personal needs and preferences.
To modify Mail's Junk Mail settings, from Mail's Mail menu, select Preferences. In the dialog box that opens, click Junk Mail.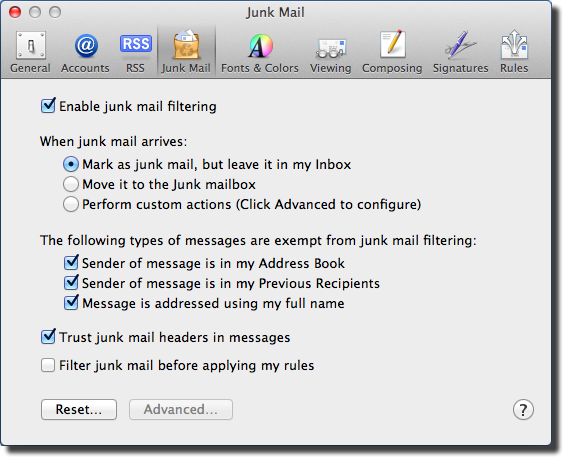 The various settings are well-documented in Mail's help files. Click the question mark icon at the lower-right to view these descriptions.