Switch from Zoom's Plug-in for Outlook to Microsoft's Outlook Zoom Add-in
These instructions are intended for users of non-managed computers who need to update their computers to the recommended Outlook calendar add-in for Zoom.
This article applies to: Zoom
---
Zoom users who manage their schedule of Zoom meetings using the Outlook calendar should now use the Outlook Zoom Add-in. 
Previously, Outlook users had the ability to install a similar plugin from the Zoom website. Support of Zoom's legacy plugin is being discontinued by Microsoft. For information about checking which version you have installed and what to do depending on which version you detect, read below.
If you need assistance beyond the information provided in this page, please contact your local IT staff

.
After you remove the legacy Zoom plugin and install the new Microsoft Zoom add-in, you will not be able to use the new add-in to update Zoom meetings created using the legacy plug-in. Therefore, it is recommended that if you anticipate a need to make changes to a Zoom meeting scheduled using the old plug-in, you should delete the old meeting and reschedule it using the new add-in.
How To Tell Which Zoom Add-in Is Installed
New Outlook Add-in for Zoom
If you have the newer Outlook add-in, your desktop menu will have a Zoom section as shown here:



If you use Outlook for the Web, your meeting menu will look like this:



If this is what you see, you do not need to make any changes and you can disregard the rest of this page. If you do not see Zoom options as shown above in your Outlook desktop and web calendars, follow this steps below for installing the add-in.
Legacy Zoom Plug-in (Obsolete)
If you have the legacy Zoom plug-in, when you open an Outlook meeting using your desktop application, the menu looks like this: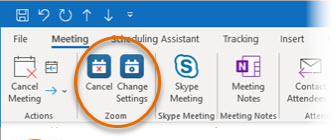 If this is what you see, follow the directions below to remove the old plug-in and install the new Outlook Add-in.
 
Remove the Zoom Plug-In for Outlook
Open Outlook's desktop application.

Click File, then Options.
Click Add-ins.
Near the bottom of the window, from the

Manage

dropdown choose COM Add-ins from the drop-down menu, then click Go.
On the

COM Add-ins

window, de-select all items except Zoom Outlook Plug-in. (That is, only

Zoom Outlook Plug-in

should be checked.)
Click Remove.
Once the add-in has been removed, click OK to close the

COM Add-ins

window.
Add the Microsoft Outlook Add-in for Zoom
If you do not see the menu items for the Outlook Add-in for Zoom, you can add it from the Microsoft 365 add-in store.
Open Outlook's desktop application.

In the top menu, click Get Add-ins.


 
In the

Search Add-ins

field at top right, type Zoom for Outlook, then press Enter.
In the search results, find the Zoom for Outlook add-in. (Avoid other calendar add-ins that do not have this exact title.) 


 
Click Add, then click Continue.

The installation process may show you the option to have the add-in pinned or un-pinned to your email and calendar items. If it shows Add-in unpinned, click Pin add-in, then close the Getting Started and Add-ins for Outlook windows to return to Outlook.
If you mainly use the Outlook desktop application, note that this same process will install the add-in on your Outlook desktop calendar as well.