Room Schedulers provide small touch panels that display the status of a room's calendar and can be used to reserve rooms.
Crestron is the vendor that supplies the TSS series of touch screen room schedulers, including 7" and 10" models. The Schedulers are compatible with Cornell's Office 365 implementation of Microsoft Outlook and also Cornell's implementation of R25.
Note that R25 scheduling information is available only for display. Booking an R25 room from a Room Scheduler is not supported.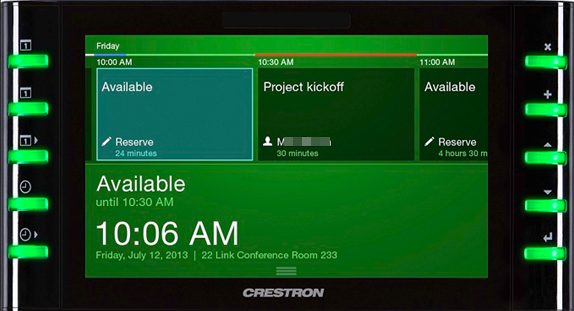 Room Scheduler display  
Support Contact:
Cornell IT Service Desk
Normal Business Hours: Monday-Friday, 8am-6pm (Eastern Time)
Emergency Service Disruptions: After Hours Support
Service Details:
Summary:
Reserve and manage meeting space
Compare to:
---