E-list Problem: Member Listed as "Complaint" or "Explicitly Banned"
Member's status shows as "complaint." List admin receives "Explicitly Banned" error message when trying to modify a member's status.
---
When viewing a list of members in the Lyris web interface, you notice one member is listed with a status of "complaint," like Mr. Fluby in this example: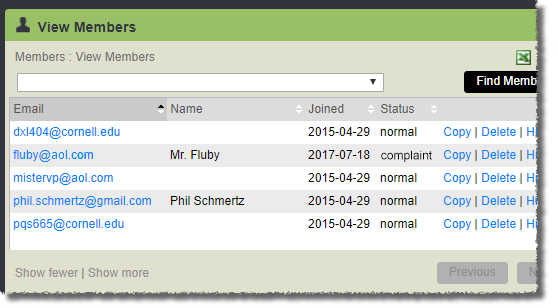 If you try to change their status back to normal, you see this notice: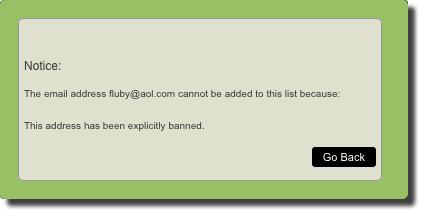 What To Do
Log in to the Lyris administrator web interface.
- How do I log in?
- Take me to the login page.

On the left, click Members.
Under Members, click Ban Addresses.
Find the entry for the person.
Click Delete.
It's okay, this will delete the ban, not the membership.
On the confirmation screen, click Delete.
You should now be able to return the member to normal status:
Click the member's email address.
Click the Settings tab.
Set the

Membership Status

to normal member.
Click Save.
Why This Happens
This situation occurs when a person with a non-Cornell address tells their email provider (like AOL) that a message from the list is junk, spam, or unwanted. The email provider sends a response to our e-list system, which changes the person's status to "complaint."
AOL does this a lot.