Standard Formats for Email Aliases
---
When selecting your Optional Email Alias, you will be presented with your name in seven standard formats plus a Special Request option:
lastname

firstnamelastname
(no space and no punctuation)

firstname.lastname
(with a period between your names)

firstnamemiddleinitiallastname
(no space and no punctuation)

firstname.middleinitial.lastname
(with periods between the three parts)

firstinitiallastname
(no space and no punctuation)

firstinitial.lastname
(a period between the two parts)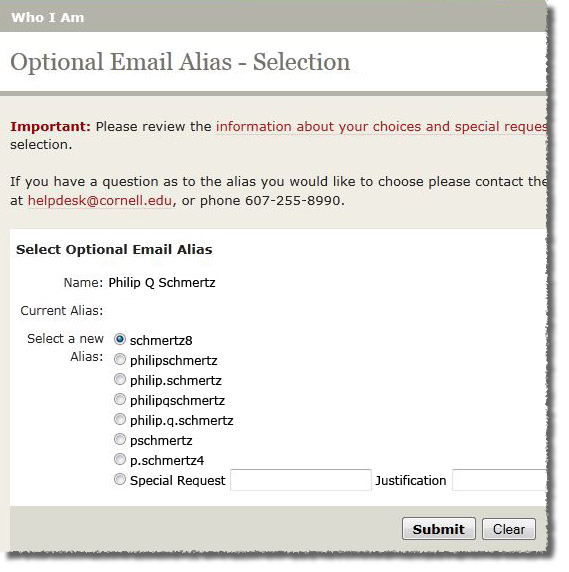 Your name parts and initial are taken from your university records.
You only get ONE alias. You cannot, for example, pick both schmertz@cornell.edu and phil.schmertz@cornell.edu
If one or more of the choices presented is not unique to you – for example, if your name is something like Robert Smith – you may see a number added to the end of some or all of your choices, for example, smith248 or robert.smith3. The number(s) shown are the next available numbers at the moment that you opened the selection page in your browser.