3. Have a Meeting Right Now
This article applies to: Zoom
---
Invite Attendees
It's easy to take the next step from the solo meeting you launched, invite someone, and use Zoom to meet. Start a meeting just like you did for your solo test. Then click the Invite icon (it may have a hint that says Click to invite participants.)

You'll see a window that provides different ways to invite someone. One of the easiest ways is to select the Email tab.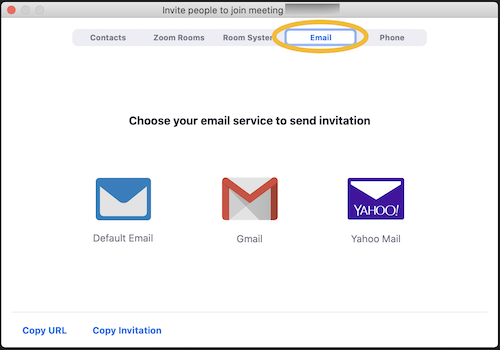 If your default email application on your computer is Outlook, clicking the Default Email option automatically puts the meeting information into an email that you can then send like you would any other email.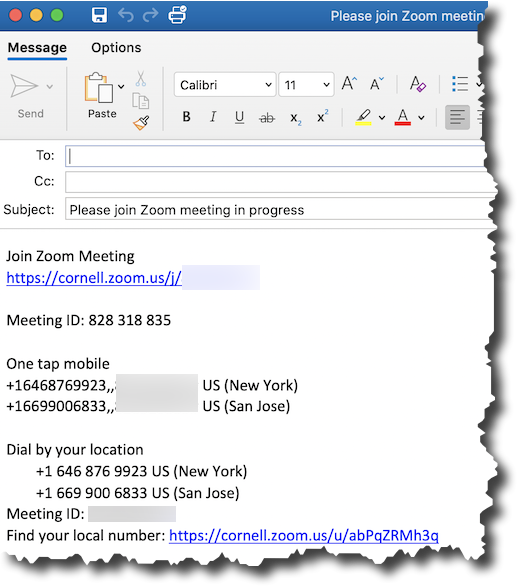 Don't know how to invite? Try us! Send the IT Service Desk a regular email to let us know you'd like to do a practice meeting. We'll write back to coordinate a time and let you know how to send us the meeting invitation.
Mute and Unmute Attendees
If you chose not to set your meetings so all attendees are muted as they enter, there may be times background noise creeps in. You can mute attendees individually or collectively in the Participants window. (How to bring up the Participants window.)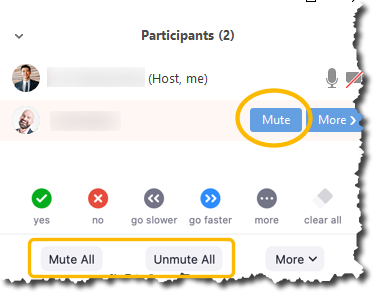 Share Your Screen
If you would like your attendees to see your computer screen, click Share Screen from the menu at the bottom of the Zoom window. 

You'll be given a choice of whether you want to share your entire screen and everything on it, or a single application. Make your selection and click the blue Share button in the lower right.
Change or End Your Screen Share
When you're done, click Stop Share. If you're only sharing one application and want to switch to a different one, click New Share and you'll see the selection options again.