2. Set a Couple of Meeting Preferences
This article applies to: Zoom
---
Some options may make meetings better, so you'd like them to happen automatically every meeting. 
Mute Participants on Entry
When relying on each individual attendee to mute their microphone, often some forget. The resulting background noise is a distraction for everyone. You can prevent this from happening by turning on a feature to automatically mute everyone as they enter the meeting. Go to Settings, scroll down until you see Mute participants upon entry and click the switch for it.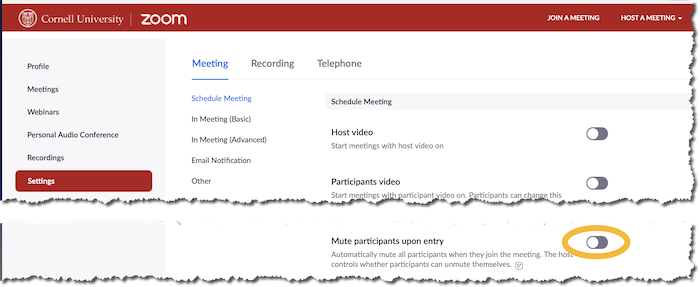 Attendee Ability to Share Their Screen
You can adjust attendees' ability to share their screens, based on what's right for your courses. The settings are located further down, under In Meeting (Basic).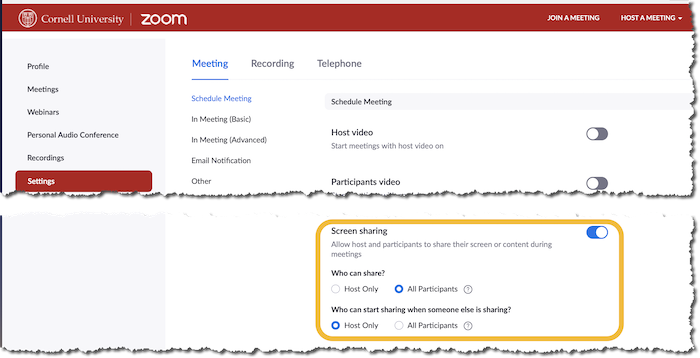 Customize Your Personal Meeting ID and Personal Link
In addition to scheduling meetings or meeting series that each have their own link , you also have the ability to start or schedule a personal meeting that always has the same meeting ID (a ten-digit number that's part of one type of Zoom URL) and link (a word or letters and numbers in another type of Zoom meeting URL). 
With its ten digits, you can create a personal meeting ID that resembles your Cornell phone extension or any other phone number:
607-25X-XXXX
The URL would resemble https://cornell.zoom.us/j/60725XXXXX.
Or attendees could go to zoom.us/join and enter the number.
Since personal links accept either numbers of letters, you can use any word or letter-number connection that isn't taken by another Zoom customer. The link resembles https://cornell.zoom.us/my/mklein, or you can enter it at zoom.us/join. (Learn more about Zoom personal meetings.)
Set your personal meeting ID and personal link at your Zoom profile page. While you're there, you can also set an image for your profile if you like!