1. Give It A Try Solo
This article applies to: Zoom
---
Install Zoom and Check Your Microphone and Speakers 
The test run below shows you what a meeting set up by you looks like. To see the slightly different experience for your attendees, visit Zoom's test meeting.
When you join, it will install the Zoom application on your computer if you need it, then run an automated audio test to confirm your microphone and speakers, cycling through available choices if your defaults aren't working in order to to identify a functioning set-up.
When you are done testing a meeting as an attendee, click Leave Meeting in the lower right. You can then try a meeting as a host.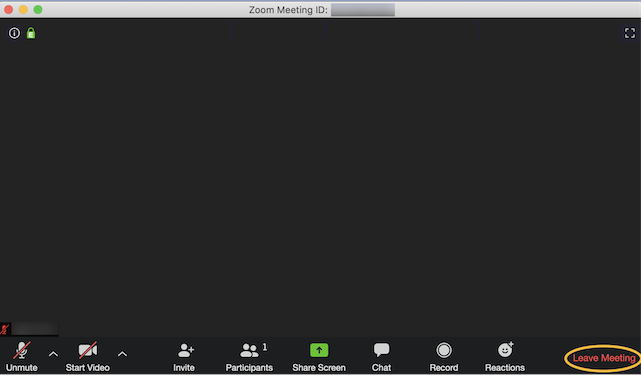 Start Hosting a Test Meeting
Launch the Zoom application, go to the home screen, and click New Meeting.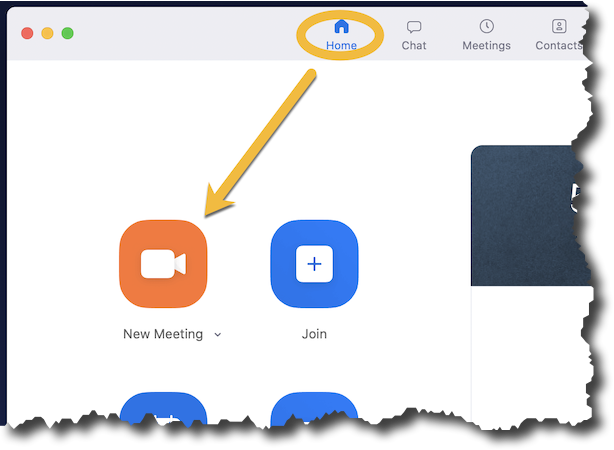 Join and Change Audio
Zoom sometimes reduces onscreen clutter by hiding menus. If you aren't seeing the buttons in the images below, try moving your mouse over the bottom and top of the application window.
You will be asked when you join what type of audio you'd like to use. We suggest you use the default audio and microphone used by your computer by clicking the green Join with computer audio button. A dedicated headset and microphone provide the best sound.
If you don't see an option for audio when joining the meeting, you can set it up using the button in the lower left of the meeting screen.

If you've already joined, audio options are still located in the same place. The main icon is to mute and unmute your audio, and an arrow next to it will show all your other audio options.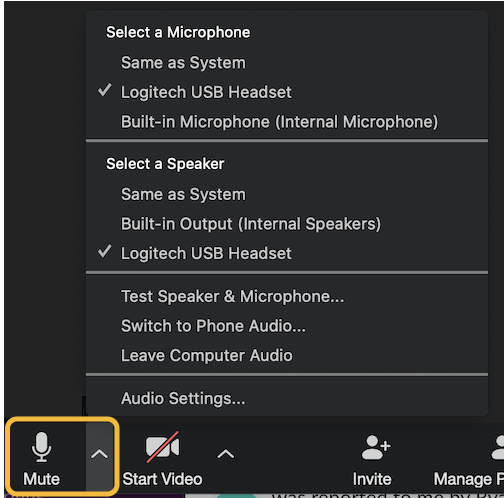 Share Your Screen
If you would like the other meeting attendees to see your computer screen, click Share Screen from the menu at the bottom of the Zoom window. 

You'll be given a choice of whether you want to share your entire screen and everything on it, or a single application. Make your selection and click the blue Share button in the lower right.
When you're done, click Stop Share. If you're only sharing one application and want to switch to a different one, click New Share and you'll see the selection options again.

Turn Your Camera On or Off
Click the Start Video or Stop Video buttons to turn your camera on or off.

Type Comments or Questions in Chat
Sometimes attendees post questions or comments in chat to avoid disrupting the main discussion. To see this activity, click Chat.

Once in chat, you can select whether to write to all meeting attendees or just a single attendee. Be aware that sometimes attendees don't notice chat activity.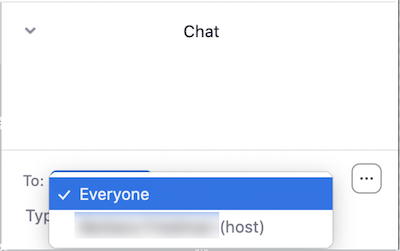 If someone's helping you manage the Zoom meeting, have them keep an eye on chat on your behalf.
Look at the Manage Participants Window
You'll also want to look at the options available to help you with course participation. Click Manage Participants.

Your course should be set up so that attendees are muted on entry, but if people aren't, you have the ability to mute them.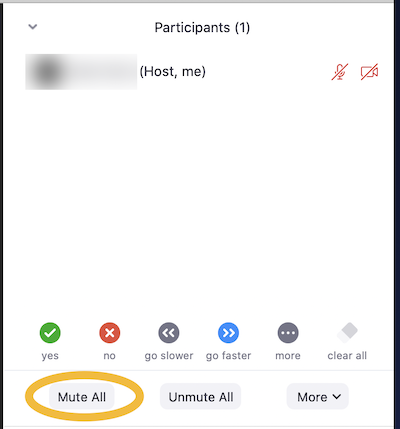 Curious about the other icons just above Mute All? They're called nonverbal feedback buttons and we'll be covering them, as well as the "raising of hands," soon.
End Your Test Meeting
When you are done testing a meeting as an host, click Leave Meeting in the lower right, just like you did when testing as an attendee above.