See Your Internet Usage and Billing
View your NUBB charges and monitor your internet usage
---
Sign in to see your network usage at: nubb.cornell.edu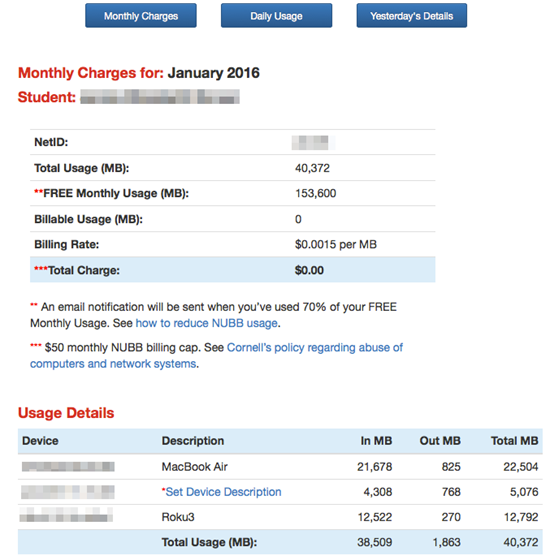 This page displays monthly network usage for IPs and MAC addresses registered to your NetID. Although faculty and staff can view usage, only students may incur NUBB charges.
Select the month you want to see from the Billing Period dropdown, and click:
Monthly Charges to see your billing, if any, for that month. Most students will never exceed the 250 GB of FREE monthly usage. Any student who uses 70% of the FREE monthly usage will receive a NUBB email with information about how to monitor and reduce NUBB usage.
Daily Usage to see all of the devices that connected to the Internet on Cornell's network each day.
Yesterday's Details to see specific info about...
Explanation of Monthly Charges
Total Usage (MB): Total of wired and Wi-Fi usage to (In MB) or from (Out MB) off-campus sites.

FREE Monthly Usage (MB): You are charged only for usage above this threshold.

Billable Usage (MB): Amount of your usage above the FREE Monthly Usage.
Billing Rate: Current billing rate per MB.
Total Charge: Charge you'll see on your bursar bill for selected month.