Book a Study Space
Use Cornell Chatter to book a study space on the Ithaca campus
---
Set your 
Outlook on the Web (OWA)
to the 
time zone for New York
(Eastern Time), otherwise, your reservation will occur at the
wrong time
. For instructions, see
Set Time Zone
.
Log on to Cornell Chatter.
Select Book a Study Space. 
Under

Select a Room Type

, choose from the options below. For help with the room type, see choose a study seat or room.

Quiet space
Small Group Space (2-3 occupants)
Interactive Private Room (1 occupant)
Large Group Space (4-10 occupants)

Under 

Select a Building

, choose the building you want. (Not sure where a building is located? Use the link to the Campus Map in the study space app.) 
Under Availability, choose the combination of available days/times that meet your needs.
Under Room Attributes, choose the amenities that you will need (select all that apply)
Select Search. 
In the search results, under 

Space Name

, find the room you want, and click the Book button. 


If you selected the "All Rooms" option on the search screen, select the room name or number under Select service.  If you selected a specific room from Search you will skip this step because the room will already be specified.


Find the month you want and select a date. 
Currently, you can only make reservations 1 week (7 days) into the future. 
Optional: Under Select Staff (optional), you may select a chair if you wish. Some chairs may have a writing space or computer. 
 

Select an available time. If no times are available, choose a different room or date. 
To book a room for several hours, you need to make more than one reservation.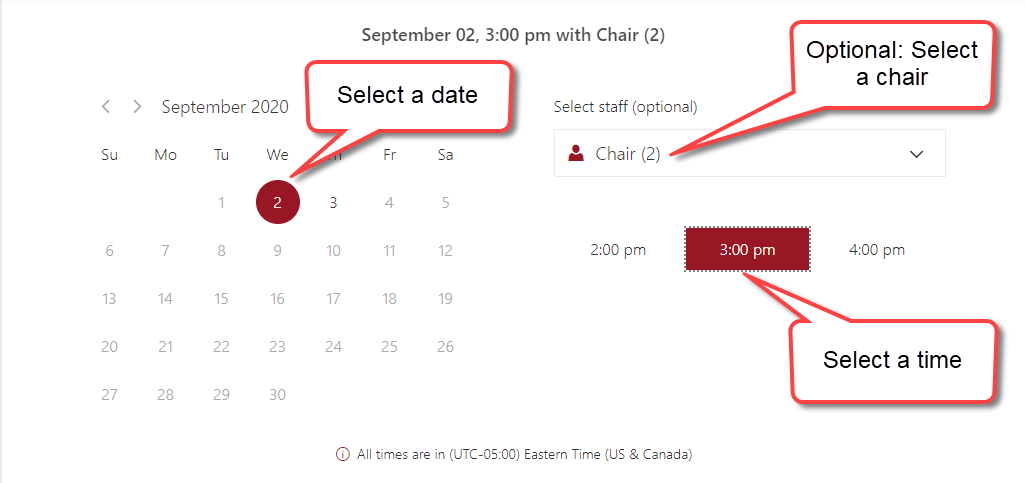 Under Add your details, enter your Name and your Email. 

Check the attestation box.

Select Book.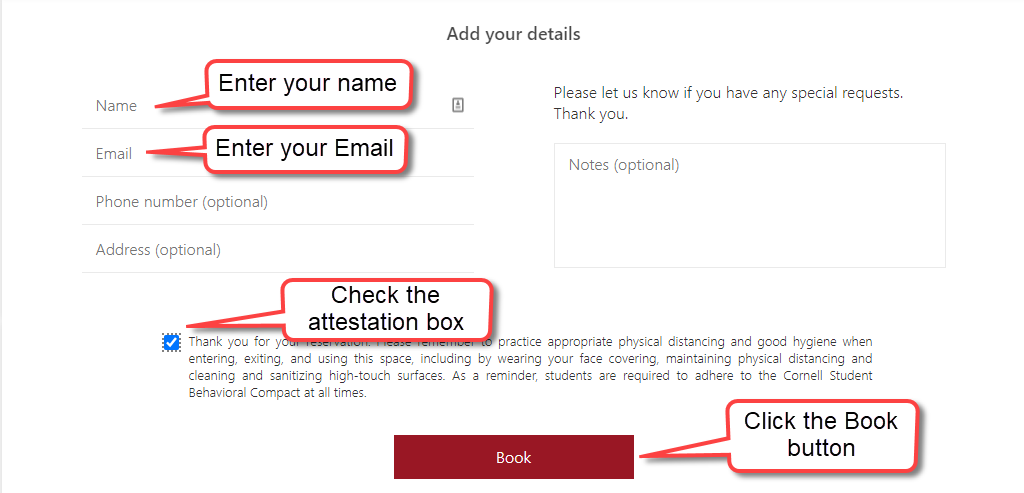 You will receive a confirmation email. Save your email. This will be your ticket to use the space. You may be asked to show your confirmation email to use some spaces. 
Once you have made your reservation, learn more about what is expected of you when you book a study space and how to use the space.