Contacts View (Skype for Business for Windows)
---
Contact Tab Overview
You'll spend a lot of time in Contacts view; you'll initiate many of your Skype sessions from here.
When in Contacts view, you'll see a search field, four tabs (GROUPS, STATUS, RELATIONSHIPS, and NEW), and your contacts. By default, GROUPS is selected. 

GROUPS Sorting Tab
Many of the features mentioned below (drag and drop, copy, move, etc.) only work when the GROUPS tab is selected.
This tab sorts your Contacts into groups. There are two default groups: FAVORITES, which appears at the top of the list of groups, and OTHER CONTACTS, which is everyone else in your contact list.
You can create additional groups: click the Add a Contact icon, then select Create a New Group.
You can change the order in which the groups are displayed by dragging the group title to the desired location.
To move a member from one group (for example, Other Contacts) to another group, drag their name from one group to the other, or select a contact, right-click, and select Move Contact To.
A contact can appear in more than one group. To add a contact to additional groups, select the contact, right-click, and select Copy Contact To.
STATUS Sorting Tab
The STATUS tab sorts your Contacts based on their current Presence status (Available, Busy, Do Not Disturb, etc.).
RELATIONSHIPS Sorting Tab
The RELATIONSHIPS tab sorts your Contacts by the privacy level (Relationship) to which they've been assigned.
You can change a Contact's Relationship with you. On any tab, right-click (Mac: or ctrl-click) the Contact, hover over Change Privacy Relationship, then select the desired level. You'll see a brief description of the level specifics as you make this selection.
See also the table on Microsoft's help page for exactly what information privileges are granted at each Relationship level.
NEW Sorting Tab
People who have added you as a contact will appear on the NEW tab. Add them to your Contacts list to make sure they can contact you and see when you're around.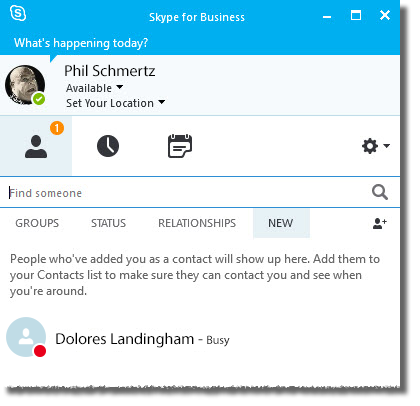 If there are new contacts for you, there will be a number displayed on the Contact View icon. Click the NEW Sorting Tab to see who has added you as a contact. To add them to your Contacts, right-click their name, select Add to Contacts, then select the group you want them to appear in.
Search/Add a Contact
Type all or part of the person's name or NetID in the search field. Two search tabs (MY CONTACTS and SKYPE DIRECTORY) will appear just below the search field and Skype will display results as you type.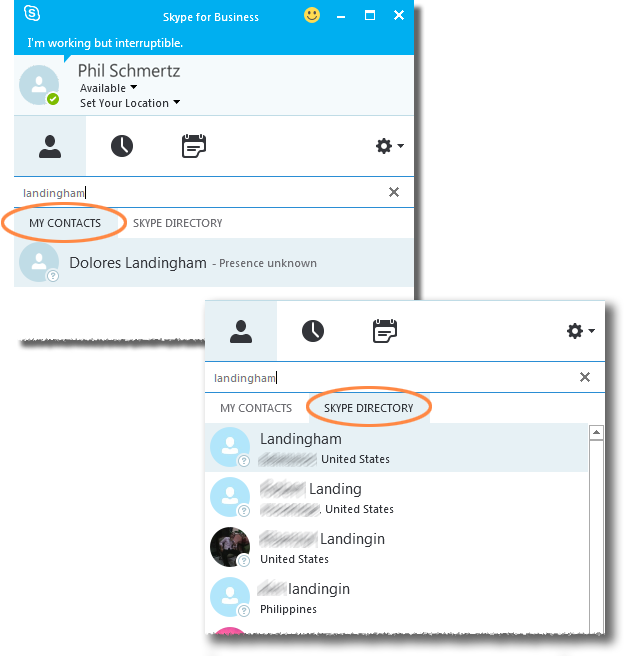 On the MY CONTACTS tab you'll see all matches from Cornell's Global Address List (not just your list of contacts). On the SKYPE DIRECTORY tab you'll see matches from the worldwide list of Skype users (but not from Cornell's Global Address List).
To add a person to your CONTACTS view, right-click anywhere on their entry in the search results, then Add to Contacts list, then select the group you want to put them in (or choose to create a new group).
As of August 2018, there are reports of a possible bug with the Skype Windows 10 client which can cause it to not display contact invitations sent from a Skype for Business user. Microsoft is aware of this issue.
Contact Card
Skype can display the Office 365 information available on a person: right-click their entry, then select See Contact Card.
Saved Conversations
To view past, saved conversations with a contact, right-click their entry, then select Find Previous Conversations.
Conversations View provides a complete record of past saved sessions with all contacts.