Initiate an Instant Messaging Session (Skype - Outlook on the Web)
---
Anywhere within Outlook on the Web, you can click on the image or name of a person and open their contact card.
This can be within an email message, from your list of Contacts, or anywhere their image and name are present (sometimes the contact card opens in a panel, sometimes as a pop-up).
Before initiating an IM session, remember to check the person's presence status.
If they show as green (available), it means they are not currently using Skype to communicate with someone else and they do not have an event on their calendar at this time.
If they show as red (busy) or red with a white line (do not disturb), it's probably not a good time.
If they show as yellow (away or inactive), they could be away from their computer.
If they show as white (unknown), it probably means that you are not on their Skype Contact list (so you're not able to see their status) or that they are not currently logged in to Skype.
Click on a person's name, picture, or presence indicator to open their Contact Card. To initiate an IM session, click the chat bubble icon.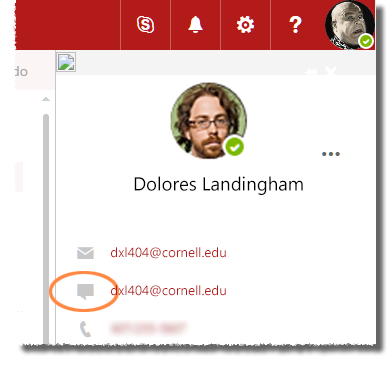 A new window will open for the chat session.
If the person you invite has Outlook on the Web open and is signed in to Skype in Outlook on the Web, they will see the notification described in our Respond to an IM Invitation article.
If the person you invite has the full Skype client installed and running, they'll see an IM invitation in the Skype client and the session will open in a full-Skype IM window.
If the person you invite is signed in to both the Skype client and Outlook on the Web, they will see both notifications and can choose either method of chatting.