Email Updated Flag (Remedy Classic View)
When a customer provides an update to a ticket, a flag is set. This article describes where to find it and how to clear it.
This article applies to: Remedy
---
While in Overview Console, the Email Updated column indicates if we have received additional information from a customer via email or through MyIT. This happens when a customer replies to a message or sends an update that includes the INC number in the subject line; their reply is automatically appended to the record.
A Yes in the Email Updated column is a signal that someone should review the new information.
After the information has been reviewed, you should clear the flag.
Highlight the ticket.
Click Clear Email Updated at the top of the Console table.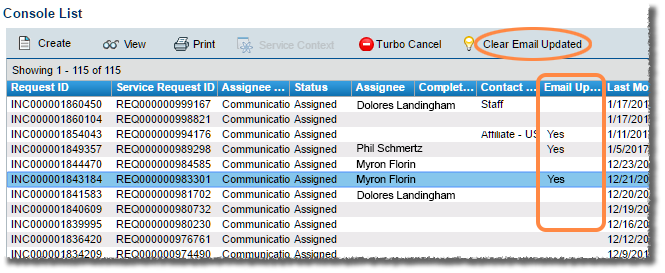 Notes
For tickets that have a status of New, Assigned, In Progress, Pending or Resolved, any Remedy Support staff member can remove the Yes flag by clicking the Clear Email Updated link.
For tickets with a status of Closed or Cancelled you will need to have an elevated permission to clear the Yes flag from those tickets. If your department has a Remedy Local Admin, then this user will have the permissions to remove Yes flags from any Closed or Cancelled tickets.
If you're unsure if your department has a Remedy Local Admin, email remedy-admin@cornell.edu and we can work with you to either (a) let you know who your Remedy Local Admin is, (b) remove the Yes flag for you (c), or assign the permissions needed to do this function locally.

Remedy's Smart IT does not have an Email Updated feature; it uses a Dashboard view to allows users to see customer updates in real time.