Zoom Profiles Now Allow Sharing of Personal Pronouns
---
August 5, 2021
Starting August 8, 2021, Cornell Zoom accounts will allow users to create optional gender pronouns in their profiles. The new Pronouns field will let users set up personal pronouns, such as "she / her / hers." This feature is set up in a user's Zoom profile -- to access the feature, sign in to the Cornell Zoom website, click Profile, then click Edit to the right of the user name.
Users can set up Zoom to share these personalized pronouns with other meeting participants. For example, users can choose to have pronouns always appear with their display name, just when they are joining a meeting, or only when they manually choose to share. Users also have the ability to un-share pronouns during the course of a meeting if they wish.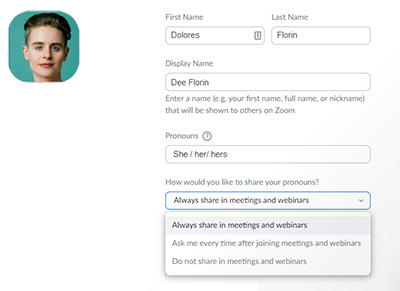 During Zoom webinars, an attendee's pronouns will not be visible to others. Only webinar hosts' and panelists' pronouns will be visible to attendees.
This feature requires Zoom version 5.7.0 or higher. For full details about setting up and using this feature, visit Zoom's webpage, Adding and sharing your pronouns. To learn how to make sure you have the latest version of Zoom, visit Check Your Zoom Application Version and Upgrade to the Most Recent Version.