Real Job Openings Don't Need Your Phone Number
---
May 6, 2022
Avoid getting "hooked" before you get to campus
Departments and organizations with legitimate job opportunities for students will not ask for your personal information in order to send you a job description. Departments post their job opportunities on university websites, allowing free access for any student to find and apply for a job.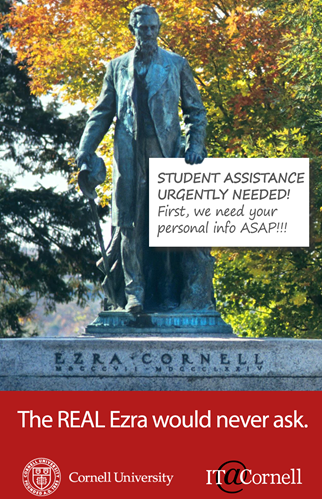 In the latest phishing scheme, emails went to new Cornell students advertising research assistant opportunities on campus. Common themes in these messages include $350 per week, the "Department of Computer Science," remote work, "urgent," and "immediate" openings. The emails ask you to send your personal information by text or to an email address that is not @cornell.edu, to get a copy of the job description.
If a message says a professor or department is looking for student help, check the Phish Bowl to see whether it's a fake message. Also, check Verified Communications (login required) to see whether it's a real Cornell message. If you don't find it in either place, contact the department or college directly.
The best place to find legitimate student jobs is at Cornell Student Employment. Or, for internships and post-graduation jobs, through Career Services.
---
Learn how to dodge the phish net