New Siteimprove Dashboard Launching October 10
---
October 5, 2017
Siteimprove will release an updated, more actionable dashboard on Tuesday, October 10. The enhanced interface features a new way to measure web accessibility success with the Digital Certainty Index (DCI), a website health score calculator.
The DCI scoring system and dashboard will help you locate and prioritize high-impact accessibility issues on your site, take immediate action to improve them, and measure your progress against industry standards.
What this update means for you:
The visual presentation of Siteimprove's platform will change to provide more direction to end users once they log in. This includes the new dashboard and summary pages in Quality Assurance, Accessibility, and SEO.
 
You'll be able to toggle between the original and updated dashboards while you explore the new layout. A toggle button will allow users to switch views back and forth for the remainder of 2017.
A preview of the new Siteimprove dashboard: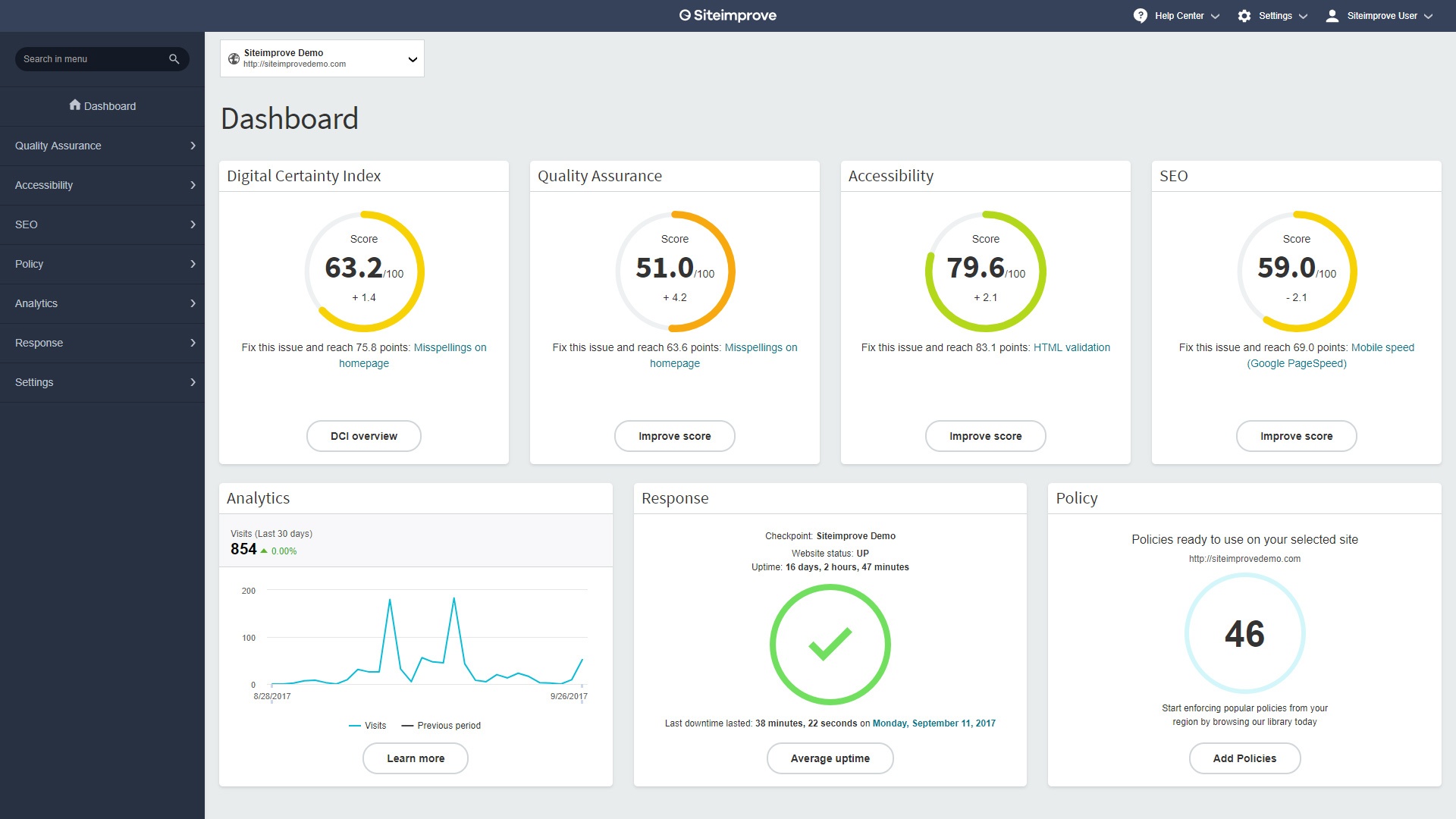 If you would like to view the recent instructor-led Cornell Siteimprove training, it's available here, and on the Siteimprove service page. To sign up for this service now, contact the IT Service Desk.
About Siteimprove
Siteimprove is a full-featured web accessibility evaluation service available to all Cornell faculty and staff at the main Ithaca campus, Weill Cornell Medicine, and Cornell Tech. The Siteimprove platform is a simple, powerful tool that evaluates how accessible your website is, and shows you how to make it better. It offers a key approach to securing digital accessibility for public websites, with an at-a-glance dashboard feature. The service provides complete visibility across your content quality and performance. Licensing for this enterprise service is currently funded by CIT, University Relations, the Division of Human Resources, and Weill Cornell Medicine.
Learn more about Web Accessibility:
webaim.org
Cornell Web Accessibility Resources
Learn more about Custom Web Development at Cornell:
it.cornell.edu/custom-web 
facebook.com/cornellcustomdevelopment