New IT@Cornell Website Launching January 14
January 13, 2017
January 14 will bring the arrival of the new IT@Cornell website, still at it.cornell.edu. In addition to a beautiful visual revamp built from the ground up using responsive design to look great on all devices, the site brings all IT content together in one place, including the previous CIO and IT News sites.
Envisioned by the IT Communication and Documentation team and developed by the Custom Development team, the site is highly intuitive, usable, and engaging, while also having the flexibility, extensibility, and power to accommodate an impressively diverse range of needs and purposes.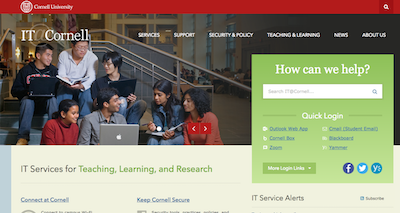 The new site brings together key benefits of good knowledgebase design and user experience, with improved in-site search and presentation tuned to the needs of the campus community. For content contributors and reviewers, the new site has much improved workflow, tracking, and review mechanics. It's built on a database-driven foundation in Pantheon Drupal 7 with Solr search.
As with any website transition, some links will no longer work, and it's expected to take external search engines such as Google and Bing a few days to crawl the new site. Redirects are in place for all service home pages and other major pages and pages known to be heavily used. The way information is organized on the new site has changed in many ways, so some redirects will go to more general starting points.
As you work with the new site, please use the "Contact Webmaster" link in the footer, or the blue "comments" box on most pages, to alert us to possible problems, request redirects for specific pages, or suggest improvements.