Ivy Chatbot Debuts Monday, March 6, 2023
---
February 28, 2023
Starting Monday, March 6 visitors to IT@Cornell will see a new icon near the "How can we help?" area of the site: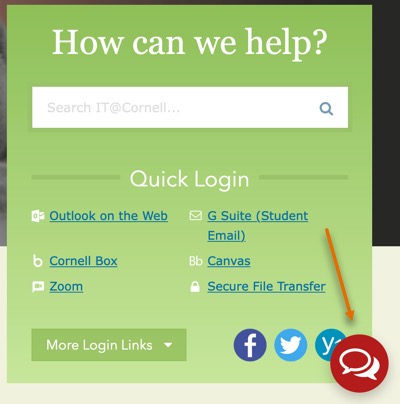 This icon launches the new Ivy chatbot, allowing visitors to search over 9,000 pages of IT@Cornell in a new, more curated fashion.

Think of Big Red as a virtual IT@Cornell librarian: IT information constantly changes, so Big Red will point to an answer at IT@Cornell, which should be current and accurate.
In development for over four months, the Ivy chatbot also re-introduced a live chat option, available during normal Service Desk hours (8am-6pm Eastern, Monday – Friday). If a support specialist isn't available, the visitor will be able to open a ticket right from the chat window. This updated chat option is now more web-accessible to support Cornellians of all abilities.
In addition to quicker, easier access to IT information, the Ivy chat system will provide the IT Communication & Documentation team with more focused data about how the IT@Cornell content is – or is not – serving the Cornell community. Are answers to questions accurate? Is the information up-to-date? Are people looking for help in new areas?
With the curated search feature, the Ivy chatbot should make it easier for self-service help, which surveys suggest between 60-70% of customers generally prefer. The live chat option will keep problem solving no more than a click or two away.