IT@Cornell's First Big Data Symposium
December 13, 2018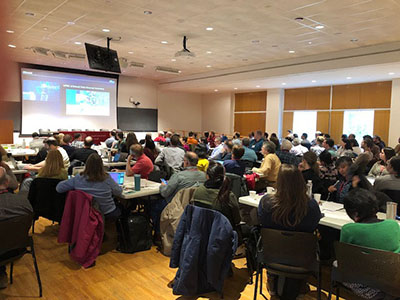 IT@Cornell hosted its first ever Big Data Symposium on December 11, 2018. In attendance were over 150 staff from across Cornell, as well as visiting members from Duke University and Ithaca College.
The event opened with a keynote from Brian Beach, a senior solutions architect with Amazon Web Services where he works with higher education customers. His presentation focused on how large amounts of data are being used in higher education, sports, and the political arena. 
Beach described how universities are using AWS services to improve student outcomes by focusing on answering specific questions. His examples ranged from academic learning management systems to using data to locate students on campus.
The symposium continued with short presentations on how data is being used across campus and in a variety of different ways, including challenges around big data. Through roundtable discussions, participants exchanged ideas about questions they hope to answer using big data, and how they might go about doing so.
The afternoon keynote was Jeff Rzeszotarski, assistant professor in Cornell's School of Information Science. Rzeszotarski focused on different ways to visualize data and new trends that are emerging in that area.
"It is important that data visualizations should help novices but remain powerful enough for the experts," said Rzeszotarski. "A sophisticated visualization pipeline is ineffective if stakeholders cannot understand its value."
Dave Lifka, vice president and chief information officer for Cornell, ended the conference by saying the symposium was a great community exercise and would help the university move forward in using big data to solve problems on campus.