ITConnects on Leading and Working in a Multigenerational Workplace
May 12, 2017
by Debra Howell
On Tuesday, May 10, an engaged group of IT professionals from across the university got together for the ITConnects BYOC (Bring Your Own Coffee) event: Leading and Working in a Multigenerational Workplace. The session was facilitated by Jennifer Fonseca and Ari Mack from Cornell Organizational and Workplace Development.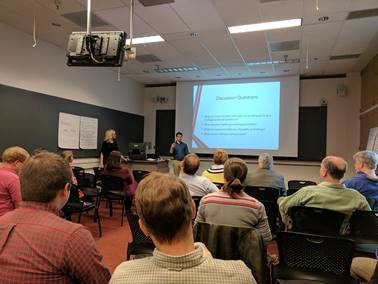 The session focused on awareness of the "whole person" when it comes to multigenerational differences. Participants also noticed that they share characteristics with several demographics, whether traditionalists, baby boomers, Gen Xers, or millennials. The goal of focusing on the whole person is to understand individual motivations rather than relying on generational stereotypes.
Participants also learned about demographic statistics and leadership connections. For example, sixty-six percent of millennials expect to leave their jobs in three to five years. In 2016, fifty-two percent of new hires at Cornell were millennials, thirty-six percent were Gen Xers, and eleven percent were Baby Boomers. According to Fonseca and Mack, when leading across generations, it's important to foster an inclusive environment where each employee is seen as unique.
Save the Date! The next ITConnects event will be a Coaching Clinic with Susan Washburn of MOR Associates on September 6, 2017 from 9:00-11:00am. More information on this session will be shared this summer.
Debra Howell is the IT director for Infrastructure, Properties, and Planning. She also chairs the ITConnects leadership group on campus for IT staff.
Would you like to write a news story or have an idea for IT@Cornell News? Please contact the IT News team at it-communication@cornell.edu.