ITConnects with CIO Dave Lifka on Technical Debt
October 18, 2017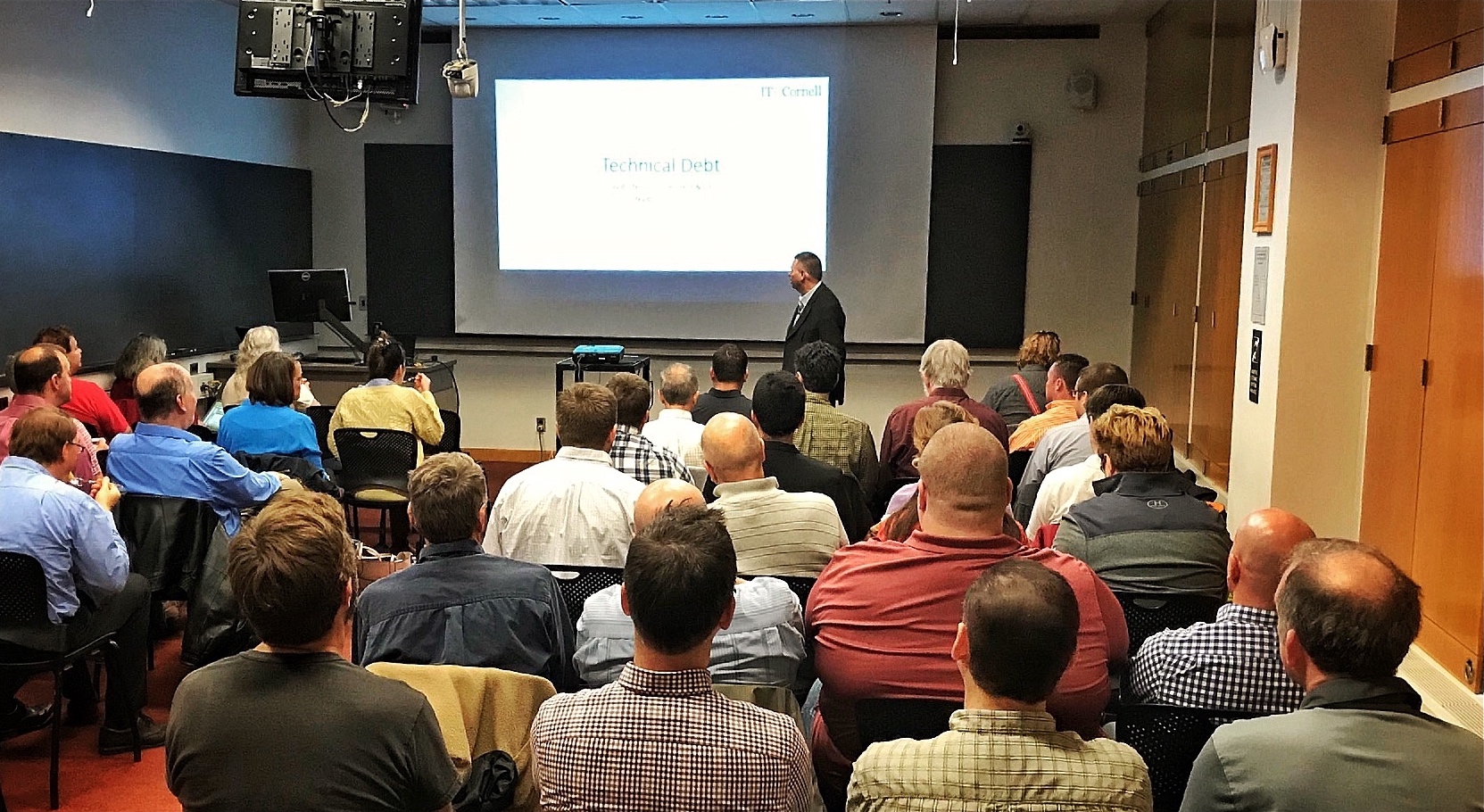 On Wednesday, October 18, ITConnects assembled the IT@Cornell community for a Technical Debt Discussion with Dave Lifka, vice president for information technologies and CIO. During the interactive presentation, Lifka addressed the impact of technical debt on the university and its IT services. Technical debt refers to the implied cost of additional refactoring required due to accumulated coding or design shortcuts, and operational inefficiencies such as maintaining legacy or duplicate systems. Mostly, it's a burden that increases overall support costs and shifts the focus away from innovation. 
Access the recorded Technical Debt Discussion.
"IT is a necessity, not a strategic investment," said Lifka.
The IT community must continuously improve its services, and include frictionless or low-friction options, to avoid customers seeking their own solutions outside of Cornell's service catalog. There's also a need to aggregate some services to make it easier to measure and report on performance. IT Governance helps to make services and processes more open and transparent, in turn shaping the university's technical debt. "If you put good information in front of smart people, they tend to do the right thing," said Lifka. IT leadership considers the realities of budget, security, and the capabilities and limitations of technology as Cornell advances.
You can help solve technical debt.
For those interested in pursuing new projects or services, IT Statements of Need and Project Charters are available. The Office of the CIO also accepts one-page executive summaries for proposals, which should outline the problem, the recommendation, and the pros and cons. Lifka said he shares these proposals at IT Service Group (ITSG) meetings.
Metrics, and especially KPIs, guide the IT framework.
In general, IT budgets are flat or declining, said Lifka, and there is an escalating need to do more with less. Because of this, metrics alone aren't enough to influence IT decision-making. Combining metrics with Key Performance Indicators (KPIs) is an essential way to effectively communicate both quantitative and qualitative data. As much as possible, the measurements should be automated regardless of granularity. As one participant said, "You can't manage what you're not measuring."
Additional topics addressed include:
Collaboration is vital to IT community and industry.
Technical vs. social problems influencing debt.
Containerization vs. virtualization.
It's not possible to eliminate all technical debt, said Lifka, but there is value in paying it down. In any industry, cost extends beyond a purchase price to include people, or more formally, human capital. Largely, the ITConnects event demonstrated that engaging your organization in interactive dialogue is key to leading change for the better, while building community and trust.
Other agenda items included IT@Cornell status updates:
IT Advisory Council (ITAC) reactivated as an ad hoc group.
More workshops, conferences, and forums coming to campus.
Increased focus on technical training, plus managerial training.
Collaboratively establish a Certified Desktop service to replace Managed Desktop.
Executive newsletter to be distributed to deans, vice presidents, and the provost.
Learn more about ITConnects and Upcoming Events
Through engagement with current and emerging IT leaders across campus, ITConnects fosters leadership development by offering events and opportunities focused on community, education, and collaboration. ITConnects is sponsored by the Office of the CIO. For more information, visit ITConnects and join us on Yammer.