Introducing the Improved Two-Step Login Duo Device Management Portal
---
March 8, 2023
Starting Sunday, March 12, 2023, Cornell's Manage Your Two-Step Login website will update to the new Duo Device Management Portal for managing enrolled devices. The new design continues to allow users to enroll additional devices to use with Two-Step Login, rename or remove existing devices, or re-activate the Duo Mobile app on an existing device.
This change accompanies the recent update of the Cornell Two-Step Login service to use Duo's improved Universal Prompt. Like the Universal Prompt, the new Device Management portal  design provides users with a streamlined, responsive, and accessible interface for managing their Two-Step Login experience.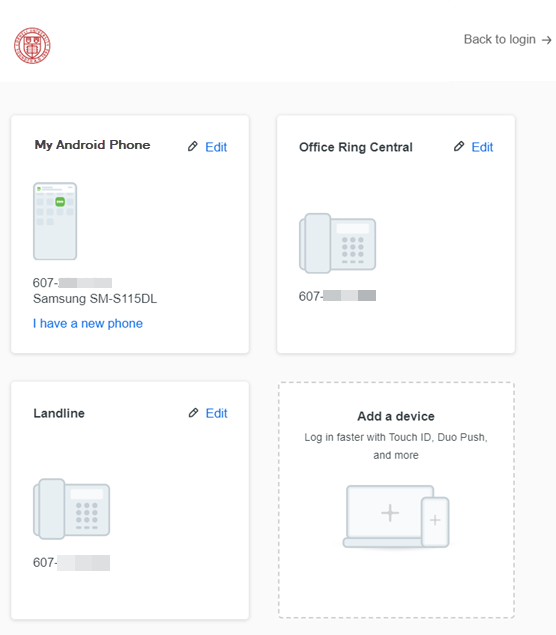 There are several ways to get to the new Device Management Portal. You can either:
From the Cornell Manage Your Two-Step Login webpage, click the Manage Devices button, OR
During a Duo authentication request, click Other Options in the prompt, then click Manage Devices at the bottom of the list of currently enrolled devices.
Whichever path you take, you will need to authenticate with Two-Step Login.
This change will also update the process for first-time setup of Two-Step Login devices for new users.
For details about managing Two-Step Login devices using the Duo Device Management Portal, visit Manage Two-Step Login Devices. To visit the vendor documentation about adding and updating enrolled devices, visit Add or Manage Devices After Enrollment on Duo's Universal Prompt webpage.
For help with Two-Step Login or other Cornell IT services, visit the IT Service Desk Get Support page.