Cornell Receives Award from Zoom for Innovative Classroom Technology Use
---
September 23, 2021
On September 14, 2021, Zoom awarded Cornell its "Zoomtopia Innovation Award for Dynamic Education" during the company's annual Zoomtopia conference. This award was given in recognition of Cornell's innovative use of Zoom and Zoom Rooms software during the past year.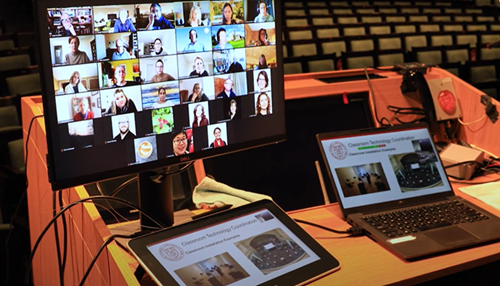 In concert with other classroom technology—including touch panel interfaces, board cameras, and electronic whiteboards—the Zoom Rooms application allowed instructors to manage shared visual content for both in-person and remote students. In addition, staff from Cornell Information Technologies and other IT groups on campus assembled a team of trained student classroom assistants to support teaching spaces and provide immediate technical assistance where needed.
To read more about the award and the work that it recognized, visit Cornell Receives Award from Zoom for Innovative Classroom Technology Use at the Cornell Chronicle.