CIT Staff Celebrated for Years of Service
June 12, 2019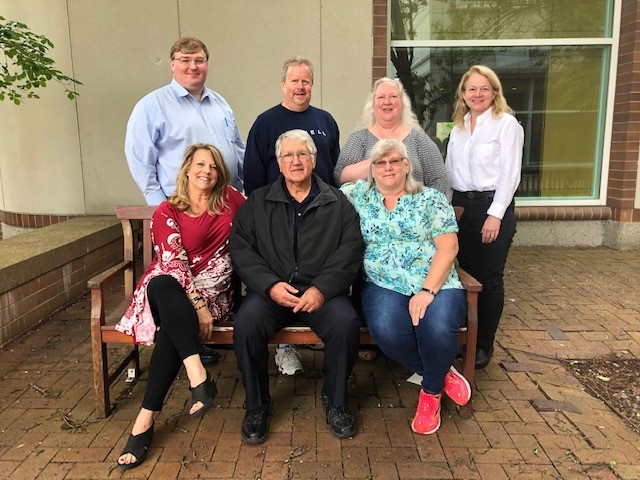 Approximately 150 staff from Cornell Information Technologies (CIT) joined David Lifka, Vice President for Information Technologies and Chief Information Officer, to recognize colleagues who have been Cornell employees for five or more years.
The celebration took place May 30 in Room G10 of the Biotechnology Building. Carl Moravec celebrated 50 years of service with CIT, and Mariann Carpenter and Rick Cochran celebrated 49 and 46 years, respectively. Another 12 staffers celebrated a fifth-year anniversary of 25 or more years of service. 
Recognized for their fifth-year anniversaries were:
Celebrating 50 years: Carl Moravec
Celebrating 40 years: Kathy Drake
Celebrating 35 years: Tammy Babcock, Sandy Eccleston, and Bill Holmes
Celebrating 30 years: Lynn Baird, Tony Damiani, and Kim Yeoh
Celebrating 25 years: J.P. Brannan, Paul Gerbasi, Geoffrey Hollister, Shari Kearl, and Jolene Simmons
Celebrating 20 years: Bill Andersen, Bruce Barber, Ami Ben-Yaacov, Greg Bronson, Jeff Christen, Sarah Christen, Aimee Decker, Tom Horton, Jude Kany, Matt Klein, Donivan Patwell, Autumn Pfister, and John Romag
Celebrating 15 years: Bryan Hutchinson, Tony Lombardo, Marie Pollack, and Les Vogel
Celebrating 10 years: Chuck Boeheim, Luis Constantino, Anasua Datta, Gabriel Goodwin, Chad Hagstrom, David Kingsley, Jerry Shipman, and Dan Villanti
Celebrating 5 years: Dan Klinger, Dennis Nardi, Nick Tubbs, and Sherry Wilson
All were presented with a certificate and thanked for their dedication and commitment.