Auto-Captioning and Transcription Options Available for Cornell Zoom Sessions
---
March 4, 2021
Live auto-captioning for Zoom meetings and webinars is available for Cornell Zoom hosts. This is a free, powerful feature that was enabled by default in January 2021. Auto-captioning and transcription services use real-time automatic speech recognition (ASR) technology to deliver in-session captions, as well as the ability to save live transcripts.
While ASR captions are not perfect, they do meet University accessibility requirements and provide an excellent in-session option to facilitate participation by attendees with hearing loss, or for those who prefer not to or are unable to play session audio aloud or through earphones.
Public event organizers must provide a way for registrants to request human captioning in their registration forms or other materials. Students who require an accommodation ought to work with Cornell

Student Disability Services.
For details about how to turn on auto-captioning in Cornell Zoom sessions, visit IT@Cornell's Zoom Automated Live Captions and Transcription webpage. In addition to displaying live captions as subtitles, hosts and participants can save a transcript of the ASR captioning. But be aware that to meet full WC3 accessibility standards, some clean-up of the transcript may be necessary, particularly when technical terms are used or when participants speak softly or unclearly.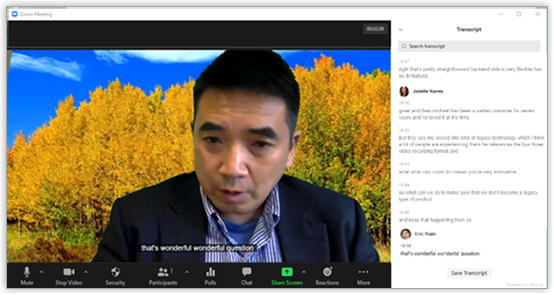 Information about editing audio transcripts in your Zoom cloud recordings can be found on the Zoom website at Viewing and Editing the Transcript.
Alternative Manual Captioning Services
Cornell Zoom hosts can also provide manual closed captioning for their sessions. Hosts can either type captions themselves during the meeting or webinar or assign a participant or vendor to do so. Details on how to do this can be found at Provide Manual Closed Captions and Transcription in Zoom.
Finally, Cornell offers for-pay human captioning for media that is located in Cornell's Video Hosting and Sharing (Video On Demand) service. Human captioning, created by a trained professional for a fee, delivers captions and transcripts of high accuracy that meet W3C accessibility standards.
Cornell recently selected a preferred vendor, 3Play Media, to provide media owners with the best balance of caption and transcript quality, convenience, and cost. For details about how to arrange for human captioning for your organization or department's media, visit the Human Captioning Services webpage.