Release Method (Net-Print Without Your ID Card)
Instructions for printing if you don't have your Cornell ID card or if the printer doesn't have a card reader
---
Many Net-Print printers are equipped with an ID card reader; your print job won't print until you use your Cornell ID card to release the document.
If you don't have your Cornell ID card with you, or if you're printing to one of the Find-Me queues, use these instructions to release the print job to the printer.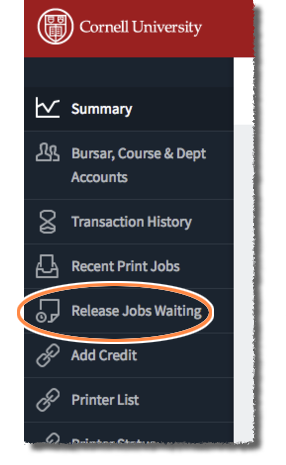 Log in to https://net-print.cornell.edu with your Cornell NetID and NetID password.
From the left sidebar, select
.
You will see a list of jobs you have submitted to be printed within the past two hours. To print one of these jobs, in the

Action

column, click .
(Jobs submitted more than two hours ago are deleted.)
Select the printer where you want the job printed.