Net-Print Problem: Amount Charged Was Unexpected
---
When you tell an application (Word, Outlook, etc.) that you want to print to a Net-Print printer or Find-Me queue, the dialog box where you specify your account includes a Cost field.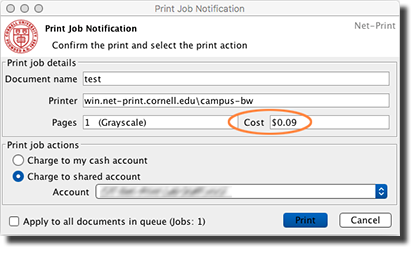 Most printers cost 9 cents per page for grayscale, 25 cents for color. But some cost more or less. (Our Public Printer Cost Information page shows the actual cost of each printer.)
When you send your print job to a Find-Me queue, you haven't actually chosen a specific printer yet, so the Cost field may not be right (it uses 9 cents/25 cents by default). The actual cost is unknowable until you actually release your job to a specific printer.
We've suggested to the vendor that they add a note to this effect to the dialog box. For now, just be aware of this possible confusion.