Clear Your Net-Print Credentials
When you are done printing from a public workstation (or a friend's computer), you need to clear your credentials.
---
Consequences of Not Removing NetID/Password Credentials
When you leave your NetID/password credentials active on a public workstation, the next person who prints from that workstation will not be prompted for their NetID/password and their print job will be charged to your account. This person is probably not doing this maliciously; they probably printed as usual, and didn't notice that they were not prompted for their NetID/password. Unfortunately, we have had situations where someone did notice, and used the occasion to print as much as possible.
Clearing your credentials does not un-install the Net-Print software.
If you are printing from a public or lab machine, follow that facility's instructions on how to clear your credentials. Use the instructions here for your own computer or for someone else's.
Clear Your Windows Credentials
Most Cornell computing labs have instructions for removing credentials (usually, logging out or restarting Windows).
This will remove your credentials for ALL Net-Print print queues you have installed. If you want to use a Net-Print printer in the future, you will need to re-install the print queue.
In the

Windows Control Panel

, select Credential Manager.

Under

Windows Credentials

, click net-print-win.cit.cornell.edu. The entry will expand to show details.
Click Remove from vault.
Windows will ask if you are sure. Click Yes.
Clear Your Mac Credentials
Most Cornell computing labs have instructions for removing credentials (usually, logging out or restarting OS X).
If, when you print, you check the box in the ID/password prompt below, then your NetID/password credentials are stored in the Keychain of the account you are logged into. This is fine for your own device, but not good for a shared computer, such as one in a computer lab.
You can prevent your credentials from being stored by UNchecking Remember this password in my keychain as shown here: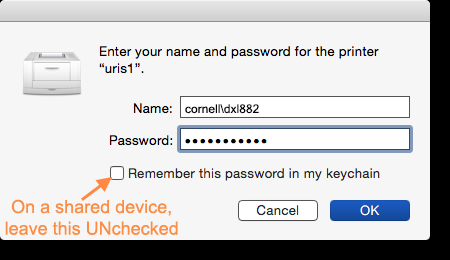 On personal workstations, follow the instructions below to remove your credentials from the keychain.
In your Applications folder, open the Utilities folder, then run Keychain Access.

In the left pane, under Keychains, select login, then, under Category, select Passwords.


Enter win in the search box at the upper right. The list of credentials should now be very short, and include a Net-Print print queue.

To verify that you've found the correct credential, double-click on its entry. In the smaller dialog box that opens, the Where field will contain one of these values:
smb://win.net-print.cornell.edu
smb://win2.net-print.cornell.edu

If the Where field shows anything else, this is not the print queue you're looking for.

Close the smaller dialog box.

Right-click (or ctrl-click) the row of the print queue. Click Delete "<printer name>".
When prompted to confirm, click Delete.
Repeat for additional printers, if necessary.